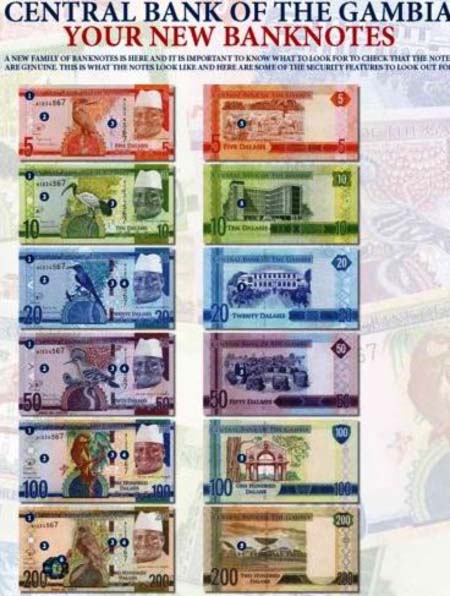 The issue into circulation of new D200 Gambian banknote which should have been introduced on 30 March, 2015 is now delayed until 15th of this month, the Central Bank of The Gambia (CBG) has announced.
The CBG, in February this year, introduced new D20 Gambian banknote and announced that it will subsequently introduce a new D200 banknote on 30 March 2015.
However, the introduction of the D200 banknote could not go on as initially planned and the Central Bank said in a statement that the postponement is "due to delay in the receipt of publicity materials from the printers".
The introduction of the first-ever D20 and D200 banknotes is part of series of new and redesigned polymer banknotes, printed by De La Rue, a money printing firm, that the Central Bank is introducing.
Central Bank said it would start a nationwide sensitisation campaign on 13th of this month in connection with the issue into circulation of the new family of Gambian banknotes and proper handling of banknotes in general.
The already introduced D20 banknote will replace the existing D25 banknote but the latter continues to be legal tender in circulation till it is fully withdrawn over time.
All the new and redesigned banknotes bear the portrait of President Yahya Jammeh and are smaller in size than the existing banknotes.
President Jammeh said the new banknotes "depict some of the achievements of the Second Republic" and bears features of national significance that are easily recognised by the Gambian public.He also said the new notes have "unique symbol of national identity, pride and unity".
The Governor of The Central Bank of The Gambia, Amadou Colley, said the redesigned banknotes have been produced using cutting edge technology.
The process of redesigning introducing new Gambian banknotes started way back in 2010 when the government approved proposals by the Central Bank to redesign the existing banknotes including the use of polymer (plastic) and other new hybrid substrates to replace the paper in the low denomination banknotes.
The reform aimed at taking advantage of technological development in the currency industry especially as it relates to security features and to provide optimal value given the high cost of printing.
Analysts said currency reform is regarded as the foundation for further strengthening the macroeconomic framework, particularly in maintaining stability in the foreign exchange market and control inflation.
According to the analysts, currency reform is sometimes typically complex and global experience has confirmed that a successful outcome could sometimes be hard to come by.
Read Other Articles In Article (Archive)