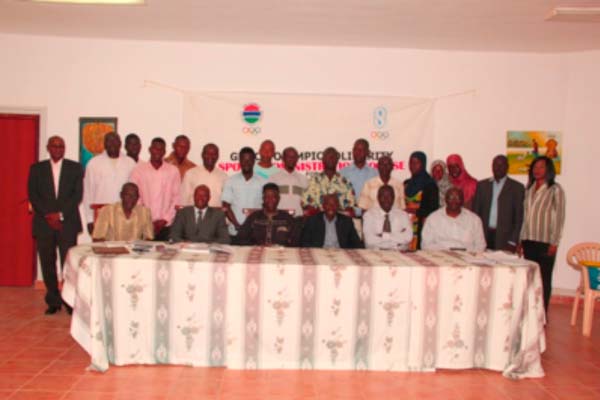 After the presidents it was the turn of National Sports Associations' Secretary Generals to converge at the Olympic House for a five-day intensive Olympic Solidarity Administration Course organized by the Gambia National Olympic Committee (GNOC).
The course, which kicked off on Monday 30 November 2015 to run till Friday 4 December 2015, is being directed by Mr Ebou Joof and Mr Lamin Sanneh, the country's accredited Olympic Solidarity course directors.
Speaking at the Opening ceremony on Monday, the president of GNOC, Momodou M. Dibba, said secretary generals are backbones of any associations and their role is as critical as the blood in the human body.
"Even if you have the best executive committee in place if your secretary general is inefficient, forget about it, your association will never perform," the GNOC boss told the participants.
He urged the secretary generals to adopt timely delivery of correspondences, which has been a major setback in sports management in the country.
"Be on top of your job, respect the dictates of your constitution, prepare calendar of activities for your association, keep records and focus on athletes' development," Mr Dibba advised the participants.
Giving the inside of the training, one of the course directors, Lamin Sanneh, said that in the next five daysthey will focus onfair play, value and ethics of sports, office holders and their functions, challenges faced by sports administrators, women in sport, leadership, sports financing, sports medicine, doping among others.
He added that the Olympic Movement, the umbrella body for sport in the world, gives everyone the opportunity to learn within the Olympic circle as practising sport is part of human rights.
Mr Sanneh called on the participants to be dedicated and committed to the course as the future of Gambian sport is in their hands and they cannot afford the fail the nation.
"You must stay focused and complete the 38 contact hours before you can be certified and we will not compromise that principle," he warned.
The ceremony was chaired and coordinated by GNOC development officers Momodou Demba and Mary P. Decker.
Meanwhile, the closing ceremony of the course is set for Friday 4 December 2015 at 17.00pm at the Olympic House.
Read Other Articles In Article (Archive)