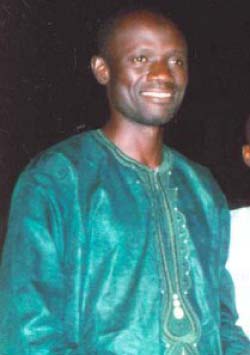 The Minister of Youth and Sports on Saturday pointed out that marching forward, particularly preparing the senior national team to have a taste of continental and international competition, has become a daunting task.
He revealed that there is a lot of work to be done. "Yes we have laid a solid foundation by putting in place a standardized constitution with decentralized structures but really as a country, we urgently need to address certain elements in order to build firmer foundation for the development of the game," he said.
Jammeh discussed the elements of putting in place and revamping sports value infrastructure, reviving school sports, nurturing talent as the grassroots, restructuring the national league, formulating a win-win funding mechanism for sport, establishing clarity in various functions and instituting a broad representation in their management and administration of sport.
The MOYS minister made these remarks at the national consultative forum that brought together football stakeholders from across the nation held the Independent Stadium's Friendship Hostel in Bakau.
The meeting engaged the ministry, the GFF and stakeholders on a daylong dialogue meant to develop a five-year football development strategy.
Other relevant issues discussed included the restructuring of the national league with options of fusing the Super Nawettan with the existing league structure and abolishing the current structure and replacing it with Super Nawettan among others.
The dialogue also witnessed a documentary presentation on challenges and opportunities for the way forward of Gambian football, delivered by various clubs, followed by questions and answers.
In his address, Jammeh reminded the forum that the head of state and his entire cabinet and government have put high premium on the development of football and sport in general in the nation, adding that the government continues to desire for unity of purposes, unity of direction, and vision and for a broad agreement on their set of objectives in moving forward the beautiful game.
According to Minister Jammeh, the gathering also meant to begin a collective process of constructing a general consensus on putting together a framework to develop football which requires individuals and the collective to contribute ideas, advice, knowledge, and skills with full cooperation.
In continuing with their responsibility to ensure excellence in sport that generates value and well being, Minister Jammeh said they have assigned an independent consultant to graduate their efforts to higher level.
"Generally, we have come a long way but again, we have a long way to go," he noted. "The history of football in the country from the 50s to today shows a number of glorious days and produces men and women who have both administered and played the game with distinction, selflessness and with pure love of the game and country."
He added: "The euphoria and heightened belief in our collective mindset as a respectable footballing nation engulfed the country beginning with the 2004 peace tournament; through 2005 U17 continental and international tournaments; 2007 U20 continental and international competitions; 2009 U17 continental and international tournaments; 2012 women U17 appearance on the world stage; 2013 U19 invitational in Italy, all symbolizes that really we have talent in this country in abundance."
In fulfilling its mandate to deliver excellence in youth and sports development, he said, the government had ensured that an enabling environment was created fully supported by financial resources, with President Jammeh personally providing numerous incentives and rewards to stakeholders in the form of properties and financial resources over the years.
Read Other Articles In Article (Archive)