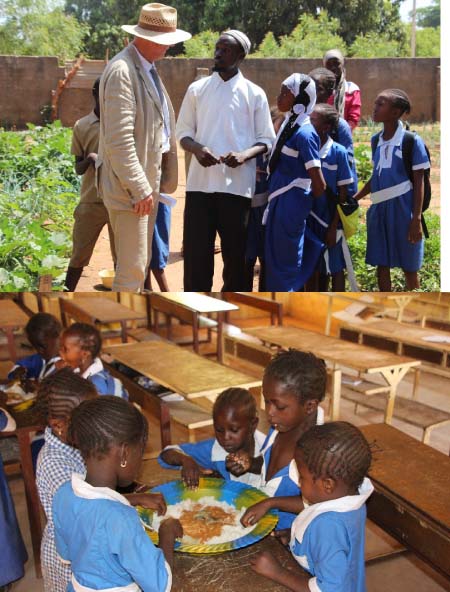 School meals are a lifeline for more than 100,000 vulnerable children and their families across The Gambia. The European Union (E.U.) is one of the biggest supporters of WFP's school meals programme across the country.
Kerewan – the E.U. Ambassador (pictured above), the World Food Programme (WFP) Country Representative and government representatives have recently visited the North Bank and Central River regions. During their visit, they met with the teachers, students and parents of the Kerewan Lower Basic school where with the support of the E.U., WFP provides a nutritious meal to more than 500 children every day. The E.U. supports WFP's school meals programme in two out of the five regions where the programme runs.
A community effort
At the Kerewan Lower Basic school, mothers do more than hold bake sales. They roll up their sleeves and cook for all the school children. The composition of the meals is also a reflection of joint efforts. The meals consist of: rice, peas and oil provided by WFP, thanks to E.U.'s support; fresh vegetables grown in the school garden (pictured above), which is maintained by the students and the parents; and peanut butter provided for free by the school's mothers' club.
"I am extremely pleased to see children eating in school. Caring for children is our obligation and I will continue to advocate for them," said His Excellency, Mr. Attila Lajos, the E.U. Ambassador.
The daily schoool meal provides a nutritious source of energy for children and encourages them to attend school and participate fully in class. It also reduces the burden on parents, especially on families that are affected by widespread food insecurity. Studies show that at least 10 percent of the population does not have enough food to eat to lead healthy lives, while 45 percent of the population is vulnerable to food insecurity.
"I always eat lunch at the school. My next meal for the day would be dinner at home," said Sira Dinding, a grade one student.Linking small-scale farmers to the school meals program me 
The current school meals programme in Kerewan, North Bank region began in 2012 and covers up to 137 schools including Early Childhood Development Centers, thanks to the generous support of EU.
In line with WFP's initiative to link small-scale producers to its school meals programme, together with the government, WFP has purchased up to 300 metric tons of food from local farmers. Linking school meals to local agriculture provides farmers with a ready market, offers great potential for economic growth and boosts community's ownership of the school meals programme.  
WFP needs support to be able to continue providing school meals for more than 100,000 students each year. In two out of the five regions where the programme runs, WFP has funding only until the end of this year.
Read Other Articles In Article (Archive)