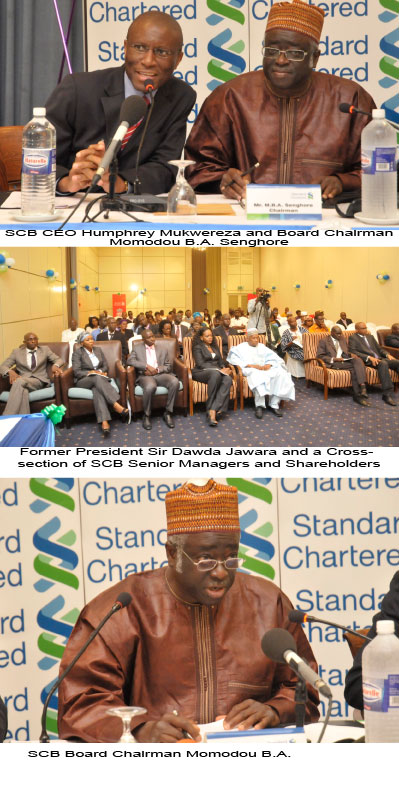 Standard Chartered Bank Gambia Limited has maintained a good track record of consistent profitability with a gross profit of D134 million in 2012 as against D136 million in 2011.
"The year 2012 was another year of good performance for Standard Chartered Bank Gambia Ltd, thanks to a combination of consistent strategy, a stable management team, supportive clients, customers and shareholders, and, above all, our great people," said SCB Board Chairman Momodou B.A. Senghore, at the bank's 118 Annual General Meeting held on 13 June 2013 at the Kairaba Beach Hotel.
He told the bank's shareholders and all at the AGM that SCB Board remains confident for the year ahead.
He also said: "I am pleased to report that your Bank has delivered another strong set of results for 2012. Despite continued challenges in the global and local economies, we have continued to deliver consistent value for our shareholders."
Income rose by 9% to D450 million, he said, profit before tax was D134 million as against D136 million for 2011 and normalised earnings per share were 44 bututs.
According to the bank's income statement for the year ended 31 December 2012, its profit after taxation slightly dropped to D88,958,000 in 2012 from D90,790,000 in 2011.
Dividend per share was 33 bututs in 2012 from 34 bututs in 2011, whilst earnings per share decreased to 44 bututs in 2012 from 45 bututs in 2011.
The bank's balance sheet states that its total assets grew to D3.8 billion in 2012 from D3.2 billion in 2011, whilst total liabilities also grew to D3.5 billion in 2012 from D2.9 billion in 2011.
Under asset, the bank's cash and local bank balances decelerated to D332 million in 2012 from D389 million in 2011; loans and advances decreased to D280 million in 2012 from D396 million in 2011, whilst Treasury bills and bonds increased to D2.6 billion in 2012 from D1.8 billion in 2011.
Under liabilities, the bank's customer deposits slightly decreased to D2.66 billion in 2012 from D2.68 billion in 2011.
"Over the years, Standard Chartered delivered consistently, not just for shareholders, but for the communities in which we operate," Chairman Senghore said.
He continued: "We employ on average 160 people; in the past year we have paid over GMD45 million in corporate taxes and we have directly supported the local communities through our employee volunteering activities.
"Amongst other initiatives, we relocated and refurbished the Neonatal Ward at the Edward Francis Small Teaching Hospital at a cost of D900,000.00 and our Seeing is Believing programme has to date raised a total sum of over D587,000.00."
Chairman Senghore said they have achieved this result by sticking to their strategy, focusing on the basics of good banking serving clients and customers with whom they have deep and in many cases long relationships.
"Irrespective of any challenges, your bank is committed to its brand promise, Here for good, and we will continue to work hard to embed this commitment in everything we do," the SCB Board chairman said. "Here for good means we will try to do the right thing and take a long-term view of our obligations to our shareholders, our clients and customers and the communities in which we operate."
He also said strong governance is integral to their long-term success; hence the bank will remain committed to ensuring that their governance structure is effective and well aligned to changing regulatory requirements.
"There were no changes in the governance structure and Board composition over the course of the year," he stated.
Despite a challenging operating environment owing to a constrained global and local economic environment, SCB maintained its record of consistent profitability in both their Wholesale and Consumer Banking businesses.
"This validates that we have the right strategy, strong brand and distinct culture to ensure that we continue to enhance shareholder value," said SCB Chief Executive Officer Humphrey Mukwereza.
He added: "We also continue to strive to provide world class service and banking solutions to our cherished clients and customers and in making a positive impact in the communities in which we work and live."
Speaking about their bank's resilient business model, Mr Mukwereza said the Consumer Banking business, which continues to be the bank's main outlet to the public, increased its distribution network in 2012, with the introduction of five state-of-the-art ATM lobbies in key locations in the country, which has greatly advanced the bank's visibility and improved on its service delivery.
"Over the course of 2012, the Consumer Banking business grew its deposit base and increased the usage of other Bank services, such as eStatement and savings solutions, resulting in a 12% increase in CB's operating income to GMD222 million," he said, adding that the Consumer Banking business continues to focus on the Preferred, Personal and SME segments and is determined to improve the value propositions for these segments.
The Wholesale Banking business performed admirably in 2012, with operating income growing to GMD228 million from 2011's output of GMD215, CEO Mukwereza also said. 
With its dedicated team of Relationship Managers and Products Specialists, Wholesale Banking (WB) continues to be a market leader in its segment and has made key inroads in the growing market in Senegal.
"In 2013, WB will drive  growth  by increasing  our penetration  of  Local Corporates (tourism, trade, agriculture) and  Financial  Institutions and Development Organisations (secure FI inflows),  while building  strategic relationships with the  government to  capture flow through infrastructure projects. To deliver these results, however, we would need to invest in developing key competencies in derivatives and leverage on SCB Group's capabilities in key products."
Wholesale Banking will also adopt a proactive strategy in attracting business specific liabilities to improve lending margins, while making better use of the Bank's balance sheet by working to identify ways to better integrate WB and CB strategy and execution.
The SCB family has vowed to continue to refresh their priorities, embed their values and culture, and invest in technology-driven innovation.
"Whilst the fundamental of our strategy remains the same  we want to be Here for good in The Gambia, every year the context and challenges  differ, so our immediate  priorities  must shift as well in line with Standard Chartered  Group," MD Mukwereza said, adding that they would also continue to build stronger relationship with clients, prove to skeptics that they really are Here for good, step up effort to innovate and digitize, intensify collaboration across their network, get fitter and more flexible  in the way they work, accelerate the next generation of leaders, and deliver superior financial performance.
"We expect to maintain our record of consistent profitability in 2013 even in the face of competitive operating environment," he said, adding:  "I extend my sincere gratitude to the Board of the Bank for their continued engagement and commitment to the highest principles of governance that ensures that we are headed in the right direction.
"My heartfelt appreciation also goes to the staff for their continued steadfastness to delivering for all of our stakeholders and to our customers and regulators for their unwavering support."
Read Other Articles In Article (Archive)