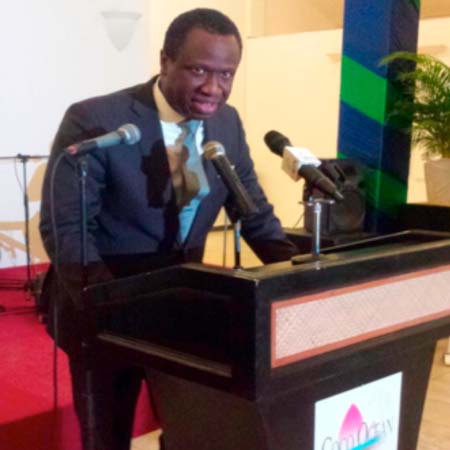 Standard Chartered Bank Thursday organised a farewell reception cocktail for the out-going Chief Executive Officer (CEO), Albert Saltson, at a ceremony held at the Coco Ocean Hotel.

In the same vein, the bank also welcomed the in-coming new CEO, Olukorede Adenowo, to The Gambia.
Delivering a speech at the event, Alhaji Alpha Barry, board chairman of Standard Chartered Bank Gambia, said they are saying good-bye to Albert R. Saltson, who has been with them for two years.
"Over the past few weeks, I had the opportunity to interact with staff and they did not hesitate to tell me how sad they felt about Albert moving to Uganda."
The sentiments expressed across the bank really touched him, and left him amazed at the level of respect and admiration they had for their CEO, Barry continued.
He comports himself with great humility and decorum, he said, adding that his integrity is impeccable and he has a heighted sense of justice and fair play.
Barry welcomed Olukorede Adenowo to the new Gambia, who would replace Mr Albert.
He assured Adenowo that he would have the board's full support, and they are confident that he would settle down quickly to take off where Albert has left off.
Saltson in response said the event was a bitter-sweet one for him, as he leaves behind a wonderful relationship.
"I want to thank you for your commitment to Standard Chartered Bank, most of all for the trust and support you gave to me during my time as Chief Executive Officer."
Mr Salton added that his successor has a wealth of experience working directly with clients and others alike, and would lead The Gambia business to a new level.
Also speaking was the in-coming CEO of bank, Mr Adenowo, who said: "I had the pleasure of meeting with and getting to know some of you. I am energized by what I have heard and seen as I have met with clients, regulators and stakeholders locally.
"I have a better understanding of our business, our strengths and our challenges and I'm convinced that together, we can continue to make the bank even greater."
To the departing CEO Salton, he expressed sincere gratitude on behalf of the management and staff, adding that Salton achieved an outstanding financial performance in the past years.
Read Other Articles In Article (Archive)