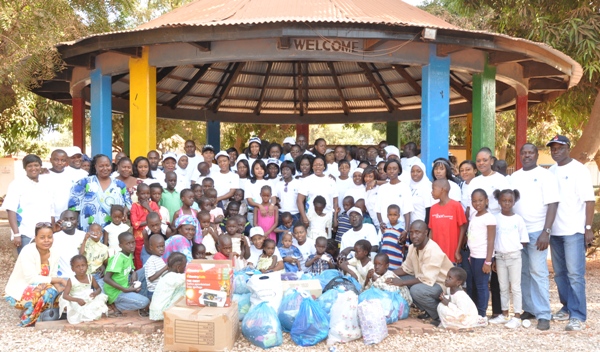 Eighty staff of Standard Chartered Bank Gambia limited spent a day at the weekend at the SOS Children's village in Bakoteh mentoring and sharing experiences with the 94 orphans of the village.
According to a press release issued by the bank, several staff brought in items such as clothes, shoes, toys, and school bags, from their homes and donated them to the village.
The children of the village were very appreciative of the staff's gesture, and entertained the group with drumming and dancing, which touched the hearts of the volunteers.       
Employee volunteering is coming of age, argues Steve Bertamini, CEO of Consumer Banking at Standard Chartered. And it's not just communities who reap the rewards.
Most of today's large organisations realise that encouraging employees to volunteer in their communities is a good thing. If you unlock their energy and passion, employees can be extraordinarily powerful agents of change. 
But what's in it for business? Why pay your staff to work for others for free? Quite simply it's because volunteering is one of those genuine win-win propositions: it works for communities, it works for employees and it works for organisations.
Volunteering programmes have become a tool for attracting and retaining talent. Companies use it to their competitive advantage knowing that today's employees care about people more than pay and benefits. They want to work for organisations that put an effort into developing people and communities and create sustainable value for shareholders.
Our research shows that staff who volunteer in the community are more engaged and more likely to stay with their employer. And, of course, staff who are more engaged typically provide higher levels of customer service and are more productive.
For Generation Y graduates, volunteering programmes are fast becoming something they simply expect from prospective employers. In surveys we conducted globally among our staff, 81 per cent said they prefer working for a company that supports employee volunteering.
Volunteering is not just about bumping up the corporate "feel-good" factor or ticking a philanthropic box. It's about connecting to the economies and societies in which you want to play a long-term role. 
When it comes to the discipline and planning required for effective volunteering, companies are ideally suited to organising and mobilising large numbers of people.
At Standard Chartered we have grown our own programme rapidly in just a few years. In 2010 we stepped up our effort, offering each member of staff three days' paid leave for volunteering as part of our wider 'Here for Good' brand promise. Volunteering is one of the best ways that individuals can demonstrate they are 'Here for Good'. 
Our employees responded by giving more than 392,400 hours of their time to communities, up 315 percent on 2009. Volunteering is at the heart of our strategy to address issues that affect countries across our footprint in Asia, Africa and the Middle East. Like many of today's leading companies, we believe that we can make our community investment go further by contributing more than financial donations.
It seems to me, if you can get people to volunteer once, you stand a chance of making it a lifelong habit. People rarely fail to be moved by the experience, and I include myself in that.     
Volunteering adds extra meaning to my daily work, and I believe that many of my colleagues feel the same. Volunteering demonstrates that a business can be about more than the profit it makes; it can be a force for good. I am not alone in thinking this. In a recent global staff survey 74 per cent of our staff said that employee volunteering had increased their job satisfaction.  
I believe that we're only just starting to see what employee volunteering can achieve. Globally, there is still a shortage of statistics as to its overall effect on communities, people and organisations. These are important because they can help to build a compelling case for businesses that are not yet on board. As we build a clearer picture of how, when and where employee volunteering can have the biggest impact, we'll be able to realise more of its great potential. Meanwhile, organisations need to continuously review their programmes, adapting strategies where required to make the most difference.
Offering paid leave is not enough; it's essential to put in the infrastructure that makes volunteering easy. Last year, Standard Chartered launched iVolunteer, a global online platform that lets our staff access volunteering opportunities and share their stories. We also set targets for individual countries for the first time. Both played a part in the dramatic increase in our 2010 numbers.
No company engaging in employee volunteering will do so without challenge. In many markets, the practice is still in its infancy, and attitudes vary widely from country to country. Organisations must allow for this when designing global programmes. Extending skills-based volunteering is another area in which a careful balance has to be struck. It's clear that volunteering can be particularly effective when staff share their specialised knowledge and experience with communities. Rigid, mandatory programmes are a recipe for disengagement. Companies can truly make a difference when employees connect with the issues that matter most to them and the communities where they live and work. 
When we get it right, employee volunteering is good for communities, good for people, and good for business.
Read Other Articles In Article (Archive)