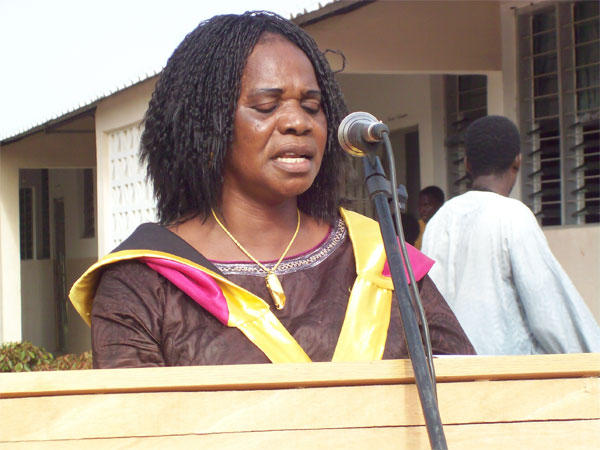 Scanaid Senior Secondary School, Brufut on Saturday held their 2nd Graduation and 4th Speech and Prize Giving Ceremony in a well-organised manner amidst hundreds of visitors in their school.
Andrew Sylva, the new chairman for the Board of governors, in his opening remarks, urged all those supporting the School to continue and thanked their partners in Norway. To the graduating students he said, "This marks the start of the life of the graduating students. The next stage is going to tertiary institutions, serving your community in other ways and others will go into parenthood and you would do so with no ones guidance, we are confident that the learning you received can help you uphold the things you acquired in this institution." He advised on self-discipline, commitment, a sense of purpose, respect for authority, tolerance and wished them all the best in life.
Mrs. M. Baldeh, the Head Teacher of Scanaid Senior Secondary School, said the school was opened a little over three years ago and its primary motive is to provide education to children residing in Brufut and its catchment area. She said, "We know our kids commute from Bundung, Serrekunda, Bakoteh and even Tabokoto competing for the school. Our enrolment has expanded from 350 last year to 420 and 70% of them are girls. By next year we shall reach our target of 50/50 or more for girls in line with government policy." She said they have not had any serious teacher mobility as other schools have.
In sports, she said they participated at the inter-schools sports at the Independent Stadium. She thanked their Norwegian donors for buying the land before the school for the purpose of a football field and asked for others to help in levelling it come next September.
Mrs. Baldeh said two of their children took part in the July 22nd Beauty Pageant and the school was taking their rightful position in the educational arena and will make an indelible mark. She recounted how they have gone on educational excursions and organised a career day for the Grade 12's.
Mrs. Baldeh elaborated on their development as a new school and praised their donors for sending them assorted Science laboratory apparatus. She said they have land for Agriculture to help the school. Mrs. Baldeh reiterated that 8 out of 70 students got good results at their first sitting and Joseph Jatta, who got 8 Credits, is doing Medicine at the UTG.
She appealed to parents to pay their children's school fees because it is from them they pay their teachers. She appealed for a school bus and for the extension of electricity to their school. She finally advised the graduating students to be focused in life.
Read Other Articles In Article (Archive)