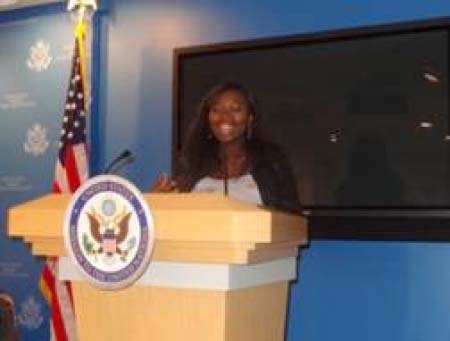 Ms Nabaneh, coordinator of Think Young Women (TYW), returned to the country recently after attending the US State Department Visitor Leadership Program (IVLP) in US.
She was nominated by the U.S. Embassy in Banjul to attend the IVLP "Girl Scouts and Girl Guides: Building and Developing Girl-Serving Organizations" which took place from 31 October to 18 November 2011.
The International Visitor Leadership Program (IVLP) was launched in 1949. The IVLP seeks to build mutual understanding between the US and other nations through carefully designed professional visits to the US for current and emerging foreign leaders.
The multi-regional project included individuals from 23 different countries - Afghanistan, Bahamas, Bolivia, Burma, Cyprus, Czech Republic, Egypt, The Gambia, India, Iraq, Israel, Japan, Kosovo, Nigeria, Papua New Guinea, Philippines, Poland, Republic of South Sudan, Rwanda, Sierra Leone, Togo and Ukraine - who shared in common the passion to develop the leadership potential of girls.
Ms Susan Lockwood, IVLP Program Officer, stated during the opening ceremony the importance of this project and its uniqueness as it coincided with the 100th anniversary of the Girl Scout of the USA. 
Participants explored the benefits and challenges of developing girls' leadership skills in American civil society and shared perspectives and best practices from their home countries.
A press release issued by the US Embassy on Monday states that the program was held in five cities and four states - Washington DC; Seattle, Washington; Houston, Texas; Albany, New York; and New York City.
"This provided the opportunity to examine the roles of both non-formal education such as the Girl Scouts and community-based partner organizations. The programme also demonstrated the benefits of girls' leadership projects," it stated.
The highlight of the programme was the holding of the 2011 Girl Scouts of the USA National Convention and the 100th Anniversary of Girl Scouts where participants had the opportunity to attend different plenary sessions, the Young Women of Distinction presentation and the 100th Anniversary Party amongst others.
This IVLP project, according to Ms Nabaneh, was "an amazing opportunity to get to know the USA, share information and best practices and reenergize our passion for girls".
Ms Nabaneh is currently in her final year at the University of The Gambia pursuing a Bachelor of Law (LLB) degree and has been selected to pursue her Master of Law (LLM) degree programme in Human Rights and Democratization in Africa at the University of Pretoria in 2012.
Read Other Articles In Article (Archive)