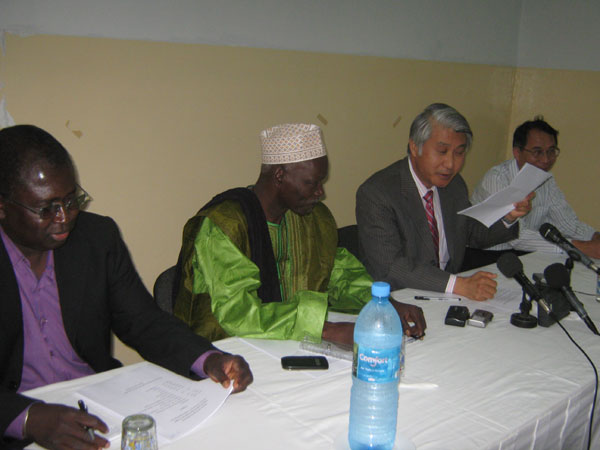 The Ministry of Agriculture, in collaboration with the Taiwan Technical Mission yesterday convened a review and planning meeting of the Gambia Upland Rice Expansion Project.
The daylong retreat held at NANA Conference room in Bakau brought together various stakeholders in the agriculture sector.
Speaking at the occasion, the Taiwanese Ambassador to the Gambia H.E. Richad Shih applauded the successful implementation of the project in 2009.
He challenged all stakeholders to work hard towards attaining the project objectives.
"Our joint efforts began to pay off for its first year (2009) the project covering seven thousand hectares have registered total yield of 11.3 thousand tones of paddy rice with average yield of 1.7 tones," he said.
He described it as a remarkable achievements, which he said, was made possible through the joint efforts of the Ministry of Agriculture, local authorities, farmers and Taiwan Technical Mission.
According to him, the project is initiated by President Jammeh and would last for four years 2009- 2012.
The project goals include: to speed up the process of attaining rice self-sufficiency, to increase rural employment and income, and to save and earn foreign exchange among others.
"In short, the project aims to transform rice farming from subsistence to agric business so as to ensure sustainability of rice production," he added.
A process of transformation, he said, requires fundamental changes not only in farmers' attitude but also in the farming operations.
For his part, the Deputy Minister of Agriculture Momodou S Kah lauded the retreat, stressing that through such meetings they would be able to identify the strengths and weaknesses of the project.
Deputy Minister Kah stressed the need for seriousness at every stage of the project so as to maximise the benefit it brings to the poor and vulnerable.
For instance, the modern success achieved last year has necessitated the need for training on seed production.
The country's Agric Ministry number 2 challenged the officials in the sector to lead by example. He further challenged the stakeholders to redouble their efforts in order to make rice production a success story.
Meanwhile, during the ceremony two regional Agric Directors, namely Mr. Ousman Jammeh of Upper River Region and Mr. Ebrima ML Saidy of Western Region received an award each from Ambassador Shih in recognition of their valuable efforts.
Read Other Articles In Article (Archive)