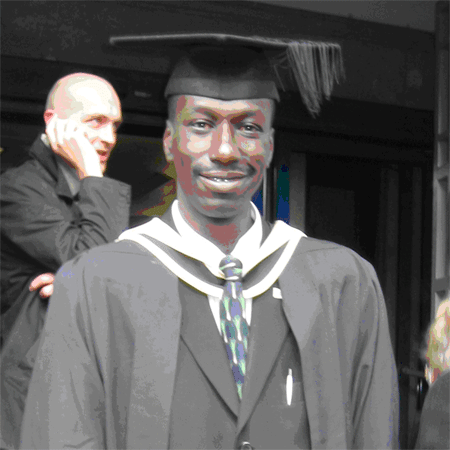 In today's edition we introduce to you a young man who deserves comendation and is well worthy of emulation thanks to his selfless service to the country.
In an exclusive interview with Youth Forum at his office in Kanifing yesterday, Mr. Kanyi told us who he is and from this I reached the conclusion that he is actually a youth that one can emulate. Born in May 17th 1966, in New Yundum, Kanyi has proven himself to be a patriotic citizen. Educated at New Yundum primary school in early 1970's, Armitage High School from 1980 to 1984 and graduated from Muslim High School in 1986. He attended the school of Nursing in Banjul between 1987 and 1990. He worked briefly at RVTH then at Bansang Hospital, until 1993 when he was moved to eye unit.
At that stage for young Kanyi had a taste for education and attended Malawi College of Health Science from 1993 to 1994. Upon his return to The Gambia in 1994 he worked again shortly with RVTH.    
"In 1996 I went back to Malawi to be trained as a cataract surgeon and in 1998 I graduated as a surgeon," he told Youth Forum. Upon his graduation, Mr.Kanyi also worked in Upper River Region where he was responsible for eye care in the region for three years. In September 2001 he was moved to AFPRC hospital in Farafenni where he was responsible for eye care in both NBR and LRR.
In September 2004, Kanyi left for the UK where he pursued his Masters Degree of Science MSc in community eye health at London School of Hygiene and Tropical Medicine at the University of London. He returned to The Gambia in 2005 and worked again with RVTH for a short while before been finally posted at Brikama Health Centre responsible for Western Region. He last sat in the classroom in India in 2007 where he studied management.
On January 1st this year Mr. Kanyi was appointed administrator Sheikh Zayed Regional Eye Care Centre (SZRECC) in Kanifing a position he occupies to the present day.
When asked why he decided to come back to The Gambia despite the lure of good pay in Europe, Mr. Kanyi said: " Well I decided to come back to work for my country because number one I was supported by the government using the tax payers money. I feel it is an obligation for me to come back and serve my country and give the poor people the services that they require from me."   He commended the Sight Savers International group for their valuable support towards his educational career.
Mr. Kanyi used the opportunity to advise his fellow young people of the country by saying; "as far as The Gambia is concerned the sky is the limit.  Let's come back to our country and help our own people and help develop this country because the president has taken the lead. Gone are the days when young people are not occupying senior positions. If you look at the civil service now you see young people manning positions like permanent secretaries and others." He encouraged the youth of the country to make the best use of the University of The Gambia as the country cannot depend only on technical assistance which most of the time costs the country a huge sums of money and also is not sustainable.
SZRECC Administrator also appealed to Gambians abroad to also come back and join efforts with the government to move the country forward. He hailed the permanent secretary for Health Mr. Sulayman Samba, Mr. Jerreh Sanyang of (SSI) and Mr. Sillah, National Eye Care Program Manager and his family for their unending support to him.
Read Other Articles In Article (Archive)