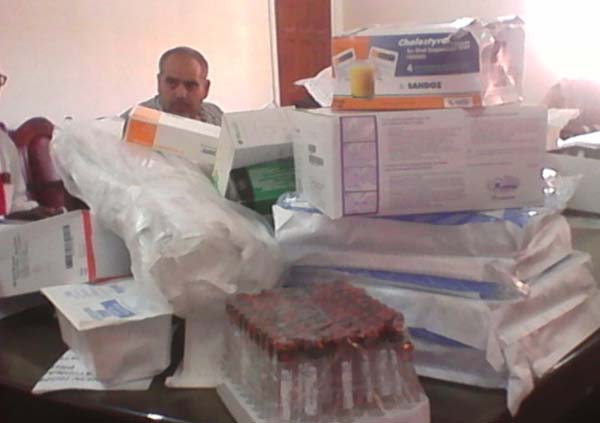 The New Hope Academy, a school in Maryland, USA, and International Development project, which is under New Hope Academy, yesterday donated medical items to Edward Francis Small Teaching Hospital (EFSTH).
The donation was facilitated by their Gambian Partners Side by Side Organization at a presentation held at the hospital grounds in Banjul.
Speaking at the presentation ceremony, Prof. M.I.A Khalil, Chief Medical Officer at the hospital, thanked the donors for the initiative to help their patients and the country at large.
He said their contribution is taken seriously by the hospital and the equipment will be used judiciously to alleviate a lot of problems at the hospital.
He added that the hospital is a teaching and referral hospital and it is the only teaching hospital in The Gambia.
He said they have a lot of patients most of whom came to the hospital from all walks of life.
He said their facilities have been overstretched but would continue to try to cater for every patient.
He said their contribution, which is highly appreciated it, will go a long way in helping them.
He thanked them for the donation.
Dr Bassan, Chairman of the advisory Committee, thanked he donors for donating the items to the hospital for them to quality service to the Gambian People and their patients.
He said it is also important for them to know their requirements if they want to help them, adding that both sides would be having talks to determine what they need to know from each other.
Hatab Fadera, National Coordinator of Side by Side Organization, said the organisation has been having fruitful partnership with New Hope Academy, a school with grade 1 to 12 in Maryland, USA.
He said under New Hope Academy they have a lot of projects, one of the project is international development project, when the founder visited the Gambia which was her first and only visit to Africa.
He said her first target was to understand how she could intervene in helping the Gambian communities to complement the effort of the Gambia government, which has attached great emphasis on the promotion of healthcare service delivery, education and agriculture.
He said the founder had said she was going to support the hospital, which is a teaching and referral hospital in The Gambia with lots of patients from all the regions in The Gambia.
It is therefore essential that she make the International Development Project a priority at her school because she believes that through the project she can actually help a lot of people in The Gambia.
"This is just the beginning as fund-raising is underway for bigger donation of medical items to the hospital," added.
Read Other Articles In Article (Archive)