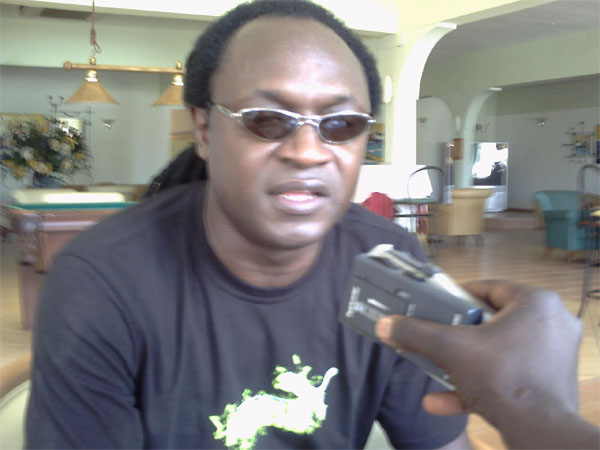 A Senegalese delegation is currently in Banjul for an official visit ahead of preparation for the Gambia/Senegal match scheduled to take place on June 8th, 2008 in Banjul as part of the 2010 World and African Cup of Nation's qualifiers.
The delegation, comprising technical staff of the Senegalese team and members of the sports ministry of Senegal, is being led by former Senegalese football star, Jean Francois  Bocande,
Pointsports had an exclusive interview with Jean Francois Bocande, who is also a technical staff member of the national team of Senegal.
According to Jean Francois  Bocande, the purpose of their visit is to seek for proper accommodation for the Senegalese team in their second encounter with The Gambia in Banjul.
 He said it is a tradition to make sure that proper arrangements have been made for the team.
He said during the visit they had met Senegalese supporters in Banjul.
"We all know that football is just a game, and not about fighting. Gambia and Senegal are one family so we should try to maintain peace," he noted.
 The delegation is also expected to meet The Gambia Football Association to discuss on the upcoming match.
Commenting on the current football crises facing the Senegalese FA, he said he does not regard it as a major problem in their campaign as it is not disturbing their preparation.
He said, "we are well prepared for our games, though there is no league games at the moment because the dissolution of the FA. The advantage we have is our players are playing in Europe and we expect to see them during the qualifiers."
Bocande further said that their players will start arriving on the 22nd of May to train with the national team.
On The Gambia
"I think Gambia is not a small team we have seen them play football and the team is young and secondly, we have watched their junior team playing when they won the Africa Cup of Nations. They have been to the World Cup twice, which Senegal is yet to reach."
"I believe if the young team gets the necessary support, we will see The Gambia not only in the 2009 African Cup of Nations but also in the World Cup in 2010. They are always better than Senegal in the Youth category."
He said youth football needs to be supported as they can make a difference.
Read Other Articles In Article (Archive)