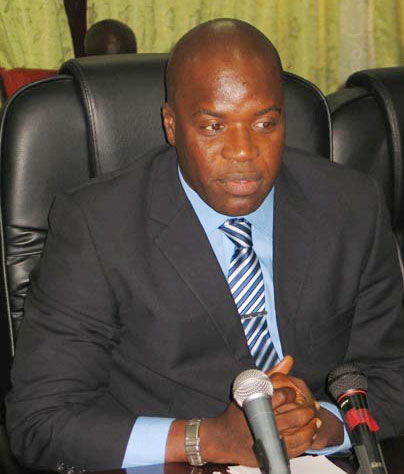 The Minister of Youth and Sports Honourable Sheriff M.L. Gomez yesterday 29th March 2010, presided over the opening ceremony of a 10-day professional training programme for 40 PE teachers across the country, at the Friendship Hotel in Bakau.
The programme to be conducted by German experts, according to the Executive Secretary of the Nation Sports Council, Besenty Gomez, is made possible through support from the Ministries of Youth and Sports, Basic and Secondary Education, Higher Education, Research, Science and Technology, in partnership with the German government.
Speaking at the occasion, the Minister of Youth and Sports Sheriff Gomez, outlined the numerous benefits attached to such a high-profile training programme, which is expected to enhance the capacity of PE teachers.
"When we all started, we thought as government, we cannot achieve excellence in sports through mass participation without going back to this level," he said.
Gomez was referring to the fact that excellence in sports cannot be achieved, if school sports initiative is not given enough encouragement.
He therefore called on the beneficiaries to make the best use of the initiative in order to share the knowledge gained from the programme
 with other colleagues, who are not fortunate to be part of the course.
"You have realised that school sports has been an integral part of sports development, which is why we are using this initiative to link with higher education who will continue to look at what we are doing," Gomez told the gathering .
The establishment of such a wonderful partnership with the Germans, according to the Permanent Secretary at the Ministry of Youth and Sports, Mambanyick Njie is significant given the fact that it will help the country greatly in realising its dream of attaining excellence in sports development.
Njie outlined the importance attaches to the PE training, adding that it will also help athletes to take part in both national and international competitions.
"We also believed that you learn sports at the tender age of between 13 and 17 years and that you cannot learn it when you are at the age of 25," he stated.
He was however referring to the fact that the age bracket is found within the schools, which is why it is important to have highly-trained and quality teachers to take charge of sports in schools.
The programme, which is currently in session at the Friendship Hotel, is expected to witness an intensive professional training programme for PE teachers across the country in the next 10-days.
"This partnership with the German government started long ago, but it gained momentum when the Minister of Youth and Sports, Sheriff Gomez went to Beijing for the Olympic Games in 2008.
However, Gomez took the opportunity to meet the President of German Olympic Federation Thomas Baach to discuss with him about the need to send German sports experts to The Gambia for sports development," says Mambanyick Njie.
Read Other Articles In Article (Archive)