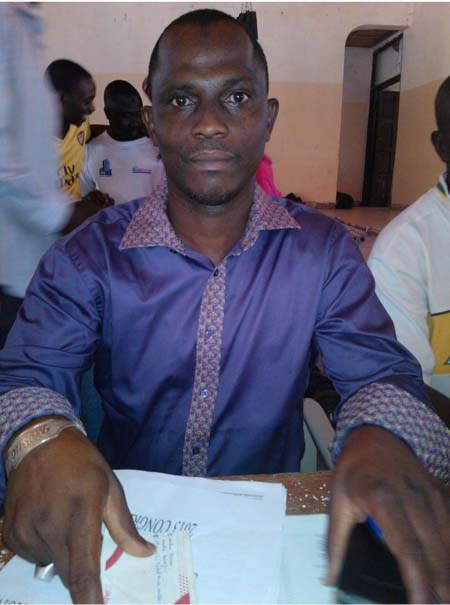 Saikou Bah was on Saturday 31 August 2013 elected unopposed to serve as president of the Serrekunda East Sports Development Organisation (SESDO) for the next four years.
Bah, who has replaced Mustapha Kebbeh - now president of the Gambia Football Federation, at the helm of affairs at East, was elected together with his whole team unopposed at a congress held at the B.O. Semega Janneh Hall in Serrekunda East.
In his report, outgoing president Mustapha Kebbeh said that at their time of taking up office four years ago, they had little structures, no finance and not much sports activity and football being dormant in the zone.
After they took over, however, they were able to turn things around for the better, that now almost all sports are active apart from athletics and wrestling.
He said they invested heavily in capacity building. "As we talk we are the only zone with match commissioners in every match," he said.
Better coordination, he remarked, was also another area they strengthened, saying they had done their best over the years. "Our organisation is always the best," he added.
He said they were able to build pavilions sponsored by the committee and are currently also constructing a multipurpose lawn at the zone which can generate funds for the zone and can also be used for different purposes.
He said they had challenges along the way but had lifted the name of the zone higher, adding: "I do not think any zone can challenge East."
"With your support we were able to come this far and we thank you for that," he told stakeholders present at the congress, saying they are encouraging people to be positive and stop misleading others.
"The road was not smooth, but everyone deserves to be congratulated and thanked for their contribution towards sports in the zone for the past four years," he said.
In his words to the newly elected body, Kebbeh said: "We thank and congratulate you: the road will be rough, but it is through challenges that you will learn.
"I am going but not leaving; I will always be available to share my thoughts. I will be available to make sure we take the zone to higher heights."
In concluding, he thanked the stakeholders for the trust bestowed on members of the new executive.
Saikou Bah, in his acceptance speech as president, thanked everyone for electing him and called on their support and commitment to develop sport in the zone.
"We cannot do it without your support," he said, adding that the zone is not owned by the executive but the community of Serrekunda East.
The new elected executive members are as follows: Saikou Bah, president; Alagie Nyassi, first vice president; Lamin Sillah, second vice president; Sulayman Jagne, secretary general; Sankung Touray, assistant secretary general; Alasan Sanneh, treasurer; Ousman Njie, assistant treasurer; Baboucarr Sohna, public relations officer; Mustapha Drammeh, football programme officer; Alagie Babou Joof, volleyball programme officer; Gerom Samuel, basketball programme officer; Malick Jarra, handball programme officer; Gibou M. Saidy, culture programme officer; Habib Nyassi, wrestling programme officer, and Yorro Njie, martial arts programme officer. 
Read Other Articles In Article (Archive)