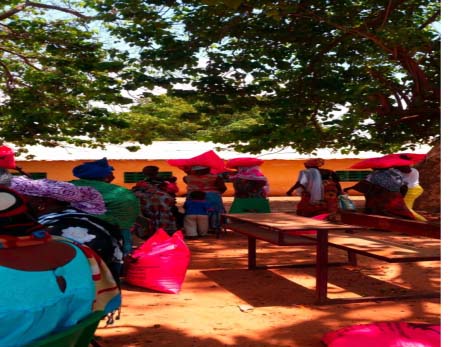 Friends of West Africa Group (FOWAG), a charity founded by one Ousman Ndow, a Gambian based in the United States of America, recently distributed 225 25kg and 50kg bags of rice to Muslims in The Gambia.

The distribution was held at the Bijilo Lower Basic School and the main beneficiaries were the communities of Kerr Sering and Bijilo, as well as private individuals, elders, religious leaders, and mosque committees, with some amount of money to each beneficiary.
The gesture was also extended to other parts and villages around Kaur in the Central River Region.
Speaking at the distribution centres, Mr Ndow said the gesture was an annual activity that his organization had embarked on to help humanity in the month of Ramadan.
He also said the organisation not only embarks on giving out Ramadan rice and sugar but also renders assistance in education by giving out scholarships to the less privileged children in society to ensure they have good and quality education.
The organisation was also providing daily meal (Iftar) at Bijilo mosque throughout the Ramadan to support people in breaking their fast, he said.
Also speaking at the presentation at Bijilo Lower Basic School, Ida Sonko-Ndow thanked the Almighty Allah for giving the strength and ability to her husband to give out to others, especially Muslims.
According to her, this was an annual event that had been ongoing for the about five years, and "it has been a success".
"We really appreciate their efforts at helping Gambians, especially during the holy month of Ramadan, whereby everyone needs these food items to break their fast," she said.
She also commended Friends of West Africa Group for their efforts and benevolent gesture at helping humanity.
Pa Matarr Loum, a locally-based facilitator in The Gambia, also thanked the founder for his ceaseless support towards the welfare of needy Gambians.
Isatou Cham from Sukuta and Ida Gaye from Bijilo are both beneficiaries who commended the founder of the organization, Ousman Ndow, for helping humanity, especially in the month of Ramadan.
They prayed for his good health and long life, saying may Allah give him more resources to help needy people and Gambians.
Modou Jallow, a council of elder in Bijilo, also thanked Ousman Ndow for his foresight in helping needy people, saying "Mr Ndow helps the needy not only in the month of Ramadan but also on other occasions".
He recounted the assistance Mr Ndow had provided on numerous occasions towards the welfare of needy people in the country.
Read Other Articles In Article (Archive)