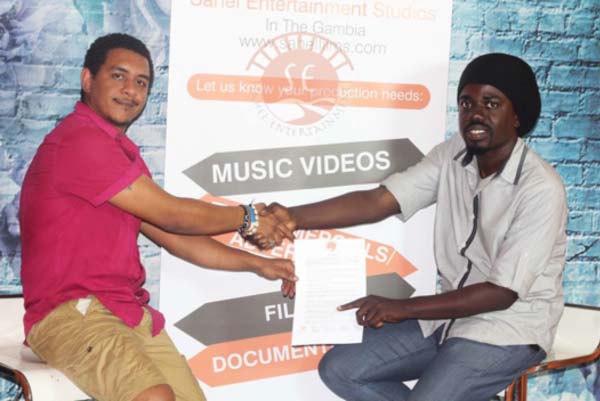 Sahel Entertainment on 7 March 2017 signed Nacif, a reggae-dancehall artiste, for three years.

He signed a three-year contract with Sahel Entertainment, and is coming up with his new singles, EVERYTHING TURN UP and HOT SAUCE GYAL, both produced by JaBeatz of Dream City. Nacif is also expecting his first album next year with productions from top-notch music producers along with video clips, international collaborations, interviews and short films all to be produced by Sahel Entertainment/Films.
Restam, Sahel Entertainment manager, said he could not have a better artiste to sign when it comes to dancehall.
He added that Sahel Entertainment will provide all the necessary needs to take his career to stardom, something new in the music scene in The Gambia.
Nacif when asked how he felt, being the first artiste signed under Sahel Entertainment, responded with delight and promised he will never let the label down, his family and Gambians at large; and also expressed his eagerness to take dancehall from The Gambia to the next level.
Paul Nacif Maroun alias Nacif born July 26 1987 in Kololi village, The Gambia is a reggae-dancehall artiste from a talented parent, who loved music from childhood and also plays some music instruments.
Nacif was inspired by his father to play the guitar in his early teenage. Through playing, he was singing along with the melody, then started writing his own lyrics.
Paul Nacif Maroun formerly known as Nassi B is the son of a big time chef, Joseph Maroun, a Gambian Lebanese and Aisha Jatta a Gambian. Nacif have four siblings, two brothers and two sisters, who are known to very instrumental in supporting his music passion and career.
In July 2008, his ex-girlfriend gave birth to his first and only child, Nasha Maroun. In 2012, he recorded his first hit song HEY GIRLFRIEND produced by ShyBoy; from there he recorded more tracks with different producers and studios like A9 Success, Joe Vibes, Yagana World, DreamCity Music etc.
His passion is to entertain, a very good actor and humorist who hates seeing people sad, likes to watch movies, fishing, acting and playing the guitar at his leisure time. Nacif subsequently ventured into feature films and starred in a movie called THE GROOMS BRIDE, in 2013.
Read Other Articles In Article (Archive)