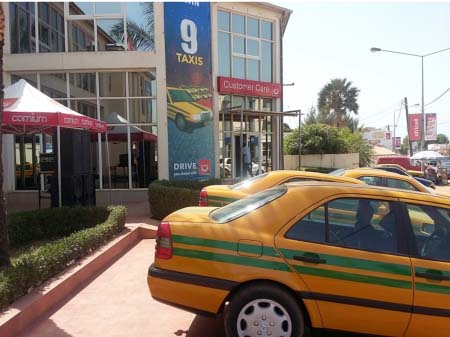 Comium has launched a new promotion called "drive your dream with Comium".
Speaking to The Point newspaper on Wednesday, Joe King Mendy, promotions supervisor at Comium, said the promotion was launched on 11 April 2016.
He said Comium management always deemed it necessary to make sure the company's loyal and esteemed customers are rewarded.
"This is why we came up with this new promotion where we will be issuing 9 taxis; one will be given at the end of every month in a raffle draw," he explained.
"For one to qualify for the monthly draw, he or she must recharge a minimum of D200 credit within the month to automatically qualify for the draw which will be held every end of month live on GRTS TV."
The promotion supervisor said customers can either choose to recharge the minimum D200 credit at one go or piecemeal up to D200 within a month.
"The more you recharge, the more your accumulated chance of winning," he said, adding the 1st draw will be held on GRTS TV on 30 April 2016 and will continue to December 2016.
Mr Mendy said the idea of the promotion was conceived based on the fact that many people, especially the youth, want to have their own business and upgrade their financial status.
"It is against this backdrop that Comium decided to come up with this promotion for its esteemed customers," he said.
Comium Promotions Supervisor pointed out that the promotion is an opportunity to contribute their quota towards the discouragement of the ever growing menace of the 'back-way syndrome'.
Mr Mendy said:"We have been studying the needs of people, our customers, and we always consider the best time to bring promotions for our customers.This is why we come up with this promotion now because we felt this is the right time to come up with such a promotion."
He dismissed the claim that Comium has been quite, saying they have been preparing to come up with big and unique promotions such as the taxi promotion.
Mr Mendy explained that 2016 is the year of Comium and as such customers should expect the unexpected from the company.
"This, the taxi promotion, is the 1st of many to come," he said.
Read Other Articles In Article (Archive)