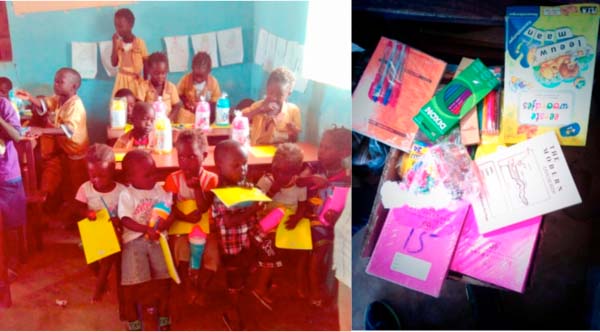 Salimatou Foundation for Education (SaFE), in observing the Day of the African Child, on Thursday 16 June presented learning materials to Fuffor Nursery School.
The village, situated just before the border of The Gambia and neighbouring Senegal, is often said to be part of Senegal but it is actually a Gambian settlement.
At the presentation of the materials, the Alkalo of the village, Pa Jatta, expressed his gratitude to the foundation for reaching out to their village, which "many people don't even know and some even say we are part of Senegal".
For many years, he said, their kids have been travelling as far as Giboro to go to school, "which is really strenuous for the younger ones".
"We as a village took it as our responsibility to build a nursery school, where our kids can go to learn, before going to primary school, which is at Giboro," said the Alkalo.
Dawda Jatta, a teacher, expressed similar sentiments as did the alkalo and called on other people to come to their aid in that part of The Gambia.
He said that over the years, in his own little ways, he has been providing teaching service to give primary school education to children of the village, as well as to train and mould them properly for a better future.
"I teach these kids for free and I'm not being paid for it but I just took it upon myself to help out the kids, but this is not enough, as we need more classrooms and even more schools," said the teacher.
The nursery school, with one classroom and divided into three sections - nursery 1, 2 and 3, is where Fuffor's younger kids manage to get nursery education.
Mr Jatta further thanked the foundation for their "great support" and appealed to others to follow suit, saying: "We really need help."
Salimatou Fatty, founder of the foundation, said she was overwhelmed by the warm welcome shown to them by the village.
"Education is a human rights and it is the responsibility of all to see that quality education is provided everywhere," she said.
She said her foundation would work hard to continue in helping Fuffor Nursery School.
"I would also like to call upon all and sundry, in any way they can, to help the village, as they are really in need of help," she said.
Salimatou said members of her foundation, took to the street to raise the funds and donation they used to help the village school.
Out of the money they generated, she added, they bought some leaning materials for the school, although "the items are still inadequate".
Other speakers at the presentation ceremony also appealed to the Government, NGOs and the general public to help the village school and the community.
Read Other Articles In Article (Archive)