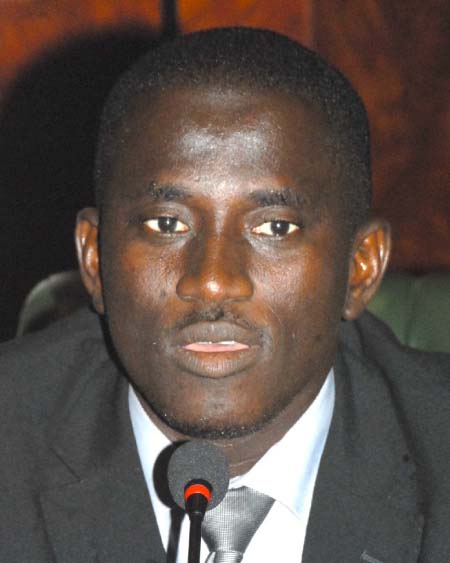 Senior defence counsel AB Gaye yesterday challenged the Bijilo Alkalo's evidence by way of cross-examination in the cconomic crime case involving the former Secretary General and Minister for Presidential Affairs, Momodou Sabally, before Justice Amadi of the Special Criminal Court in Banjul.
Under cross-examination, Bijilo alkalo Sulayman Jatta said Assan Ndoye did not mention to him any price for the vehicles, adding that he did not also ask him the price of the vehicles.
When he was together with Ndoye and Sheikh, Ndoye did not mention any price to Sheikh, he said.
Jatta did not see Ndoye producing any invoice for the vehicles, but had seen Ndoye giving Sheikh an envelope, which Sheikh said contained the proposal for the vehicles.
Ndoye did not show him any contract document for the sale of the vehicles, and he did not ask Ndoye about the contract for sale of the vehicles, Jatta also told the court.
He added that he did not know Ndoye before the vehicle transaction, and was introduced to Ndoye by one Mr Jallow.
He admitted saying in his evidence-in-chief that it was Jallow who told him that Ndoye had brought vehicles from Senegal for sale.
Jatta said the vehicles were for sale to the President, and denied that the vehicles were brought for donation to the President.
Meanwhile, one Modou Sowe, an investigative officer, attached to the Major Crime Unit in Banjul, testified as the third prosecution witness (PW3).
Before he started his testimony, the judge found out that the witness was sitting in court during the cross-examination of the second prosecution witness (PW2).
Justice Amadi then warned him never to do that again.
In his testimony, he said he recognised the accused person and could recall what happened on 9 July 2014, when he was part of the panel of investigators that investigated the case involving the accused.
He was instructed to obtain a cautionary statement from Sabally, and in doing so invited an independent witness called Ebrima Fatty from Serrekunda.
The witness further testified that the accused wrote his own statement and signed it, the independent witness also signed and he (witness) verified and endorsed it.
He also recorded voluntary statements on 18 August 2014 and 9 September 2014 from Sabally.
He identified the statements in court and, without any objection from counsel Gaye, they were tendered in court and marked as exhibits.
DPP then applied for an adjournment to interview the witness.
Defence counsel AB Gaye objected. He said the witness had started giving evidence, and the DPP could not have further conference with the witness until he finished.
The DPP argued that the witness was his witness, and he had not finished with him.
Justice Amadi ruled that when a witness has started testifying, he was no longer anybody's witness, but the court's witness.
The case continues today.
Read Other Articles In Article (Archive)