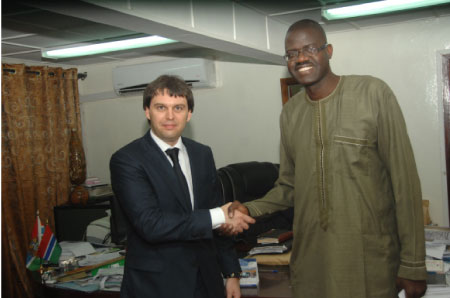 The Secretary General and Head of the Civil Service, who is also the Minister for Presidential Affairs, Dr Njogu L. Bah, yesterday received in audience a special envoy from Russia.
Daniel Shubman, deputy director of staff at the office of the deputy prime minister of the Russian Federation, was in Banjul to seek the government's support in Russia's bid to host the world exposition 2020.
Speaking to waiting reporters shortly after a closed-door meeting with the Secretary General in his office in Banjul, Daniel Shubman, who is also the executive secretary of the organizing committee of experts 2020 in Russia, said he came to Banjul to promote the Russian bid, adding "we made a presentation of our project of experts 2020, which we hope will take place in Russia".
'We also discuss different issues on the relationship between Russia and The Gambia, and we hope that we will be able to cooperate with the Gambia, especially within this project of experts 2020,' he said.
According to Shubman, Russia is bidding for the right to host the world exposition 2020 and they have a project to make this exposition in Russia.
'So we have a team of our exposition, which is a global mine and we are planning to receive 150 delegates from all over the world,' he said, adding that participants will be able to promote their countries in Russia in 2020 if Russia wins this competition.
Govt. response
Asked as to what was the response of the government, Shubman told reporters that they did not have any response from the government yet, as they just came to make a presentation and talk about their project.
'The vote will take place in November in Paris. So there is no response yet, but we hope our presentation was at the higher level and hope we will receive a positive response,' he added.
Read Other Articles In Article (Archive)