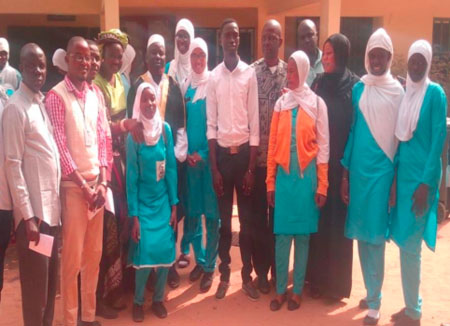 Officials of the Ministry of Basic and Secondary Education (MoBSE) communication unit have visited six senior secondary schools within regions one and two.

Head of the communication unit, Emily Gomez said the visit was to formally introduce the officials to the schools and to forge partnership with them. She said it is also meant to inform the school administrators about the mandate of the unit within MoBSE.
Mrs. Gomez informed the visited school administrators and their students about the existence of "The Gambia Education TV" and the introduction of MoBSE Newsletter called: "MoBSE Mirror."
"This partnership will showcase your school programs and activities through the TV and the Newsletter of what you are doing in your schools so that the general public will be aware of it," Mrs. Gomez informed school heads and students.
She emphasized that the TV will purely broadcast issues pertaining to education, adding that good things are happening in schools but yet the general public is not aware of those happenings.
The print media editor at MoBSE Communication Unit, Baba S. Touray informed the school administrators and students that the unit wants the schools to take ownership of MoBSE mediums.
"Already the communication unit has partnered with some media institutions in the country namely QTV, Paradise TV and GRTS, and we want to create a platform that would give students the platform to showcase their academic talent," he explained.
The broadcast producers at the communication unit, Tala Camara and Saidou Jallow said the aim of the unit is to build healthy partnership with schools for the public to know what is happening.
They suggested that student programs need to be exposed to the general public and encouraged various clubs in their schools to be part of the great opportunity.
Head-boy of Nusrat senior secondary school, Alieu Jobe, Aboubakar Touray and Sira Jatta suggested the way MoBSE TV and Newsletter should be run.
Ms. Camara and Jallow said the culture of writing is dying in schools, but with the coming up of the TV and the Newsletter, students writing skills will be revised.
Principals and other authorities of the visited schools described the introduction of "The Gambia Education TV" and the Newsletter as timely, assuring that their students will be contributing to the publication in form of poems, poetries, feature articles and stories
Read Other Articles In Article (Archive)