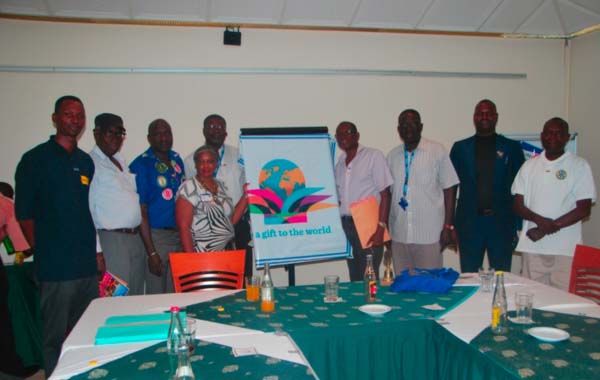 The Rotary Club of Banjul recently "installed" their newly-elected officers for 2015 – 2016 year, at a ceremony held at the Kairaba Beach Hotel in Senegambia.
The new executive comprises Rotarian Fatou Bah, who will be serving as President for the year 2015 through 2016; P.P F.T. Jones,vice president; RTN Alieu B. Ceesay ,treasurer; RTN Abdoulie M. A. Jallow, secretary; P.P Amadou Njie, chair-International; P.P Omo George, chair-Membership; AG Safiyong Manneh, chair-Foundation ; PAG Shola Joiner, chair-Projects; RTN Abdoulie Cham, chair-Club Administration; RTN M L Camara, PRO; and P.P Mathew Ndure, Sergeant-At-Arm.
The occasion marked the 36 years the Rotary Club of Banjul had been installing newly elected officers.
Rotary's main objective is service to the community and throughout the world, as Rotarians continue to build goodwill and peace, provide humanitarian service, and encourage high ethical standards in all vocations, with the motto: "Service Above Self."
"The Object of Rotary is to encourage and foster the ideal of service as a basis of worthy enterprise," the newly elected president said in her address on the occasion.
Madam Bah added that the Club's major projects include sponsoring a new club (Rotary club of Brusubi); sponsoring a Maths and Science workshop/exhibition (Grade seven (7) to Grade nine (9), starting with 2 regions; and arranging inter-city meetings with Rotary clubs in Dakar and Ziguinchor.
The following is the statement of the Rotarian President, Fatou Bah, on the occasion of the "installation" of the new executives:
Rotary Club of Banjul's President Message – FATOU BAH
The start of something new is always exciting – and so it is with each new Rotary year.The New Year is often associated with an opportunity to change and turning over a "New leaf". It also provides an occasion to reflect – to look at the Past, Present and Future. Our lives are full of significant dates for celebrating – from birthdays to anniversaries, to holidays and milestones. And so it is with July 1st -a-sort-of "New Year's" for Rotary and Rotarians. A time to look at our Clubs and District, to celebrate what we have accomplished up to today; and what we envision for our future.
On our 2015-2016 RI President "Ravi" Ravindran has chosen the Rotary theme of "Be a Gift to the World". RI President Ravi asked that we as Rotary members use our talents, expertise, and leadership and Be gifts to the world in this Rotary year. A gift can only have value if some part of us goes with it. One of our greatest gifts is to Be a Friend. Giving of your time to help others is a way to Be a gift. To Be empathetic and compassionate is a gift we can give. To Be attentive and appreciative is a gift that is always welcomed. All of us are unique and each one of us are blessed that we have many gifts – our talents, our vacations, our skills to share. We can give a gift of our ability, our expertise, our leadership –anything that will add value to someone's life and contribute to the betterment of our world.
To quote Anthony Robbins, "Life is a gift; and it offers us the privilege, opportunity, and responsibility to give something back by becoming more."
The focus of the upcoming year is to Grow. Grow our membership numbers; grow our Rotary knowledge; and grow our Rotary leadership talents both in and beyond our clubs.
To promote Rotary through the sharing of our club activities, using the new brand, and by telling our Rotary story.And continue to support The Rotary Foundation both at the club level and personally. To Be a Gift.
As Membership is important year around. We must continue to give potential members more reasons to join, and current members more reasons to stay. Let us work together to strengthen our membership base and to encourage others to join us as we work to improve our communities and to be A Gift to the World.
To quote a Game Show..." Are You Ready"??? "Are you Excited"??? let the games begin as we start this New Rotary Year. As we head out to "Be a Gift to the World"!
I will not be doing justice if I should end the speech without saying a job well done to someone who dedicated his time in preparing the calendar, bylaws and constitution of the club. P.P Mathew Ndure "you are a gift to the club".
The Rotary Club comprises of twenty-eight (28) members and six (6) prospectors.
Read Other Articles In Article (Archive)