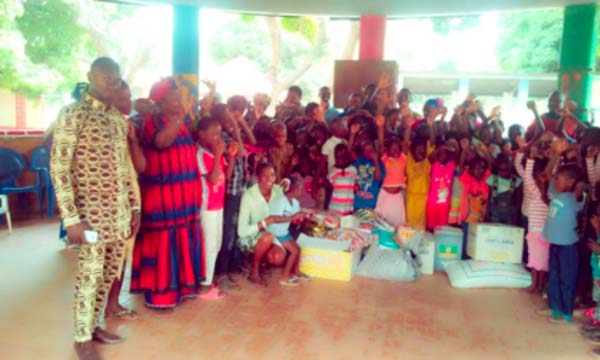 The 
Rotoract Club of Fajara Monday donated food items to needy children at the Serrekunda Hospital and the SOS Children's Village in Bakoteh.
The donated items include rice, sugar, onions, gallons of oil, pack of cheeps and packs of laundry soap, among others.
The gesture was geared toward showing their recognition, concern and love to the vulnerable children.
Members of the Rotaract Club aimed to help, and initiated a project called "helping the orphanage at the SOS Children's Village and the children's ward."
Speaking to beneficiaries at both places, Rotoract Club President Karen Mballow, said they know the value of children in our community, and put them first in their agenda because they are the future leaders.
Mballow added that they wanted to bring smiles on the faces of the children which they deserved, she said, adding that December being a festive season, they chose it as a month for funding, caring, sharing and loving families and friends.
Fatou Samba of Rotoract Club said they do not only care for the children in their families, but also have love and care for the community at large.
She said the vulnerable children should not be left out, as they also deserve to be loved and cared for by the society.
Baba Njie, CEO of the Serrekunda General Hospital, thanked the club for the gesture, and said the items will be properly used by the beneficiaries in the hospital.
He commented the club members for their engagement in national development, particularly in participation in the immunization campaigns.
He said the Gambia government through the Health ministry has taken a good step to make sure health services are free for children under 5 years old.
According to Mr Njie, sharing the little they have with the needy children showed that a group is concerned about their well-being.
SOS assistant Village Director at Bakoteh, Omar Beyai, said the family-based care in the village takes care of children who lost parental care, and that they have 75 children in 10 family houses each headed by a mother.
He thanked the donors for the gesture, and urged future collaboration.
Read Other Articles In Article (Archive)