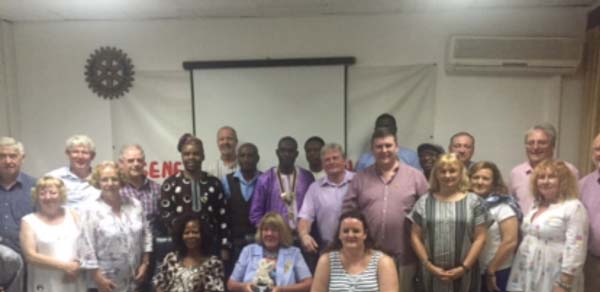 Foreign Rotarians and business investors from the UK, Netherlands and Spain recently met with members of the Rotary Club of Fajara for a round-table discussion to see in which areas they could invest or support in The Gambia through the Rotary Club of Fajara.
The meeting, held at the Senegambia Beach Hotel, was meant for the various Rotarians and investors to exchange ideas on priority projects for the communities in The Gambia.
Speaking in an interview with this reporter, the president of the Rotary Club of Fajara, Ebrima Toure, said that during the meeting members discussed many areas of concern for their project activities, and to see how best to address them.
The meeting was held to discuss with areas in which they could support the people of The Gambia, he said.
He disclosed that some of the Rotarians or investors are focusing on health, education and other areas of national interest.
According to Mr Toure, the meeting was very fruitful as a lot of issues were discussed and concerns were noted to forge ahead.
Mr Toure commended the Rotarians and investors for meeting with them in a bid to contribute their quota to the development of the country.
"We appreciated and assured them that the Rotary Club of Fajara's doors are open, and they are ready to collaborate in complementing the efforts of the Gambia government in boosting the economy of the country."
The Rotary Club of Fajara would fulfill its commitment so there would be more collaboration in supporting communities in the country, he said.
He disclosed that among the issues discussed during the meeting were a micro finance project that the Rotary Club of Fajara was about to implement, and Excellence Day, a project of supporting school children.
He also said in addition to the projects achieved, the club has been rendering support to students for years through its "Yatu Statr Fund" sponsored by Trust Bank Limited.
Rotary is out to support societies and communities, he said, adding that among other issues discussed was the WASH project at the Edward Francis Small Teaching Hospital.
He said the WASH project would help prevent the spreading of infectious diseases.
Mr Toure also asserted that the Rotary Club of Fajara has a micro-finance project, to give access to women who find it very hard to have access to financial support from microfinance institutions.
One of the foreign investors or Rotarians from the UK, Chris Hayter, managing director of Hair Loss Advisor, said they came to join the Rotary Club of Fajara in a meeting, because her project has been working with the community of Bakau since 2007.
"We work in the area of environment, health and education and have implemented many activities," she said.
The outcome of the meeting would be communicated to her fellow Rotarians in England, by telling them what the Rotary Club of Fajara is doing in The Gambia, for future collaboration in helping the people of The Gambia, she said, adding:
"We acknowledge the commitment of the Rotary Club of Fajara in supporting the communities."
Read Other Articles In Article (Archive)