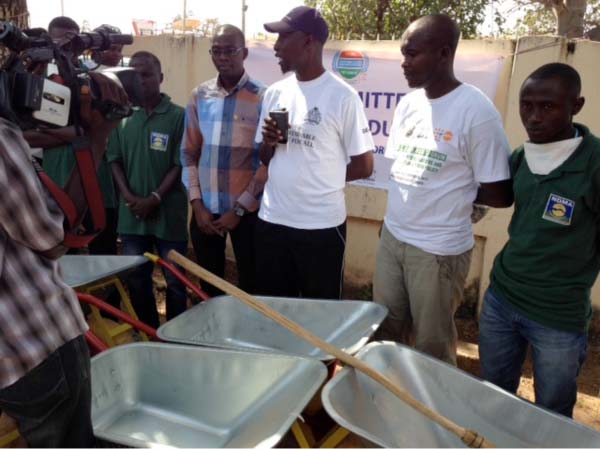 The Banjul City Council has expressed appreciation and gratitude to the Rotary Club of Fajara for their speedy intervention by donating wheelbarrows to enhance the council's environmental cleansing exercise.
The club donated the wheelbarrow to the BCC youth committee for local risk reduction following a request sent to the club.
The donated materials were received by the Public Relations Officer of the BCC Sandi Njie at the weekend during a presentation to the youth committee held at the BCC premises in Banjul.
Mr Njie commended Rotary Club of Fajara for the gesture saying it will complete the government efforts in keeping the country, particularly the capital city, clean.
He said as far as the BCC is concerned, they will do their best to ensure that the young people who are not only the future leaders but the leaders in the making would not jeopardise or bring conflict into the country.
The president of the Rotary Club of Fajara, Ebrima Touray, said the BCC youth committee's cleansing of Banjul streets is directly link to environmental sanitation is part of the focused areas of the Rotary Club of Fajara.
He said that was why when they received request from the committee, they decided not to waste time in responding by providing five wheelbarrows and brooms as their contribution.
Mr Touray said the Rotary Club of Fajara is out to support the society and the communities.
Chairperson for Banjul Youth committee, Muhammed L. Bah, applauded thanked the youth for coming out en mass for the cleansing exercise within the streets of Banjul by various youth representatives.
The exercise was held in collaboration with the National Disaster Management Agency (NDMA).
Sulayman Jawo, chairperson of the committee, said the initiative came up as a result of young people coming together in unison for disaster risk reduction.
He said young people we have a pivotal role to play in the society in ensuring that the hazards of disaster are reduced.
The coordinator for Banjul disaster management committee, Mr Colley who deputised for the NDMA executive director, commended the youth committee for their initiatives aimed at disaster risk reduction.
He said the support of the partners of the committee such as the Rotary Club of Fajara will go a long way in risk reduction at the local level. 
Read Other Articles In Article (Archive)