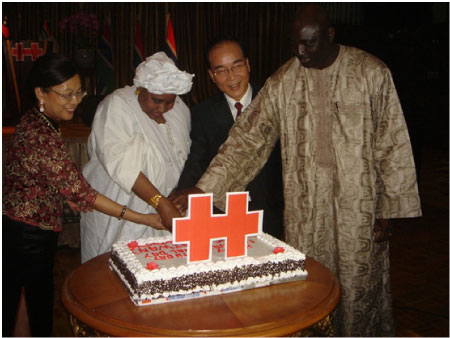 The 101st National Day of the Republic of China (Taiwan) was on Tuesday celebrated in The Gambia at a reception hosted by Ambassador Samuel Chen.
It was held at the Paradise Suites Hotel, and was graced by the Vice President, Dr Isatou Njie Saidy, speaker of the National Assembly, cabinet ministers, diplomats, Taiwanese in the Gambia and several other senior government officials.
Speaking on the occasion, Samuel Chen, the Taiwanese ambassador to The Gambia, spoke about the numerous achievements registered by Taiwan since 101 years ago, such as upholding of principles of democracy, human rights, rule of law and economic advancement.
According to him, the IMF ranked Taiwan 19th out of 183 countries surveyed and with Taiwan's GDP amounting to US$37,720 in 2011.
"Also in the Global Competitiveness Report 2012-2013, for the third consecutive year, the Republic of China on Taiwan ranked 13th out of 144 countries," he said.
He said that ROC maintains firm friendships with its 23 diplomatic allies and also develops programmatic relations with many other countries.
"A total of 128 countries and territories offered visa-waivers or landing-visa privileges to ROC nationals. The United States government just announced last week that Taiwan becomes the 37th participant of the US Visa Waiver program," he announced.
The development, he added, demonstrates that the relationship between the US and Taiwan has been upgraded, and it is also an affirmation of Taiwanese people's social progress and law obeying nature.
"This is one of the important fruits of our viable diplomacy," remarked Ambassador Chen.
He said the vision of President Ma Ying-Jeou is to see Taiwan play the roles of peacemaker in the international arena, be a provider of international humanitarian cultural exchange, and promoter of international cultural exchange.
He added that President Ma also wants to make Taiwan a creator of new technology and business opportunities, and a standard bearer of Chinese culture.
The chief Taiwanese diplomat told the gathering that Taiwan is sharing their successful experience with dozens of countries via hundreds of projects including agriculture technical support, medical assistance, capacity building and so on.
"The Republic of The Gambia is not only a very important diplomatic ally of the Republic of China in Africa, but also a well respected cooperation partner," he said.
He acknowledged The Gambia's continued support for Taiwan in the international arena, while expressing belief that the relations between the two countries would group from strength to strength.
Dr Momodou Tangara, Minister of Foreign Affairs of The Gambia, said Taiwan is not only a development partner, but a true and genuine friend of The Gambia.
"This friendship has been consolidated by our two Presidents, who have taken bold and concrete initiatives to foster mutual understanding and cooperation between our two countries," he said.
He added: "Taiwan which has risen from the ashes of war to the pinnacle of development and self sufficiency, and is a role model to nations that are aspiring for meaningful independence and development."
He said that through hard work and with the highest sense of nationalism, the people of Taiwan have taken their destiny into their own hands, and have transformed their country into a technological giant, which has made the country and its people the envy of the world.
"Taiwan as a proud nation; Taiwan as an international centre of knowledge; and Taiwan as a model of peace and prosperity deserves our congratulations and commendation for the important role it has been playing in international cooperation and development," said Minister Tangara.
According to him, the cooperation between The Gambia and Taiwan can only be described as excellent and beneficial. Through our general framework and protocols of cooperation, hundreds of Gambian students have been trained at various institutions in Taiwan. This is a major contribution to capacity building as these students return to the Gambia with the requisite knowledge and expertise to participate in national development.
Taiwan has also contributed significantly to the enhancement of our naval capability by providing us with gun boats to patrol and secure our territorial waters against international poachers. This contribution has not only helped us to protect our marine resources, but has also assisted us in warding off traffickers who use our sea lanes for their illegal trade, he said.
"The Gambia is grateful to Taiwan for sharing with us your experience and for providing us with technical assistance in various fields. Through our cooperation, we have registered significant strides in our endeavour to reach the MDG targets and Vision 2020."
In his words: "As an ally and partner, The Gambia will continue to be a stronger advocate for the recognition of Taiwan by the international community, and for its admission into the specialized agencies on the United Nations."
On behalf of the President, government and people of The Gambia, Minister Tangara congratulated the government and people of Taiwan on the occasion of the 101 anniversary of their national day.
Read Other Articles In Article (Archive)