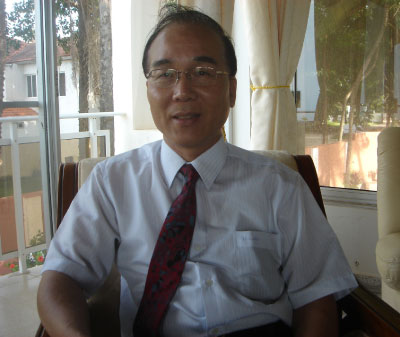 The ambassador of the Republic of China on Taiwan on Tuesday 26th March 2013 presented two cheques, valued at US$ 760,000 to The Gambia government.
The first cheque amounting to US$700,000 was meant for the President's Empowerment of Girls Education Project (PEGEP), whilst the second cheque, valued at US$ 60,000 was meant for an expert managing the Foundry of the Gambia Technical Training Institute (GTTI).
Both cheques were received by the Secretary to the Cabinet, Nuha Touray, on behalf of the Government of The Gambia, at a brief presentation ceremony held at his office in Banjul.
In presenting the cheque, on behalf of his government, Ambassador Samuel Chen, spoke extensively on the cordial ties between The Gambia and Taiwan.
Noting that the project has registered great successes, Ambassador Chen, said since the initiation of PEGEP in 2000 by President Jammeh, it has been empowering the girl child in the country.
"Today, I'm also pleased to present another cheque for funding in the sum of US$60,000 for an expert managing the Foundry at GTTI, so as to train Gambian technicians at the institution. And we hope both projects will be very helpful towards education and vocational training in The Gambia," he said.
In receiving the cheques, Nuha Touray, the Secretary to Cabinet, who thanked the people and government of Taiwan for the support, said "This is not the first time you have done such presentations. The PEGEP project is very important to the government as it helps in promoting an area so dear to the Gambian leader. Any effort to help in that regard is highly welcomed," he said.
He disclosed that the project runs right across the nation, stressing that the Gambian leader has also put in a lot of efforts in that regard.
Mr. Touray described the GTTI Foundry as another important area, especially in the training of technicians. He said technical education is very important in the development of the country, emphasising that the foundry was set up by the Gambian leader.
He assured the Taiwanese diplomat that the funds would be put to its intended purposes.
Read Other Articles In Article (Archive)