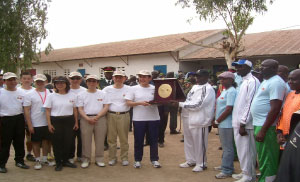 The Gambia and Taiwan played to a penalty shootout on Saturday April 14 at the Ming Daw Junior and Senior School in Farato.
The friendly game forms part of President Ma Ying-jeou of the Republic of China's four-day state visit to The Gambia.
Each team had five players with Presidents Jammeh and Ma serving as captains of their respective teams which included cabinet ministers and secretaries general of the two countries.
At the end of the 1st round the ROC scored one goal while The Gambia failed to score.
However at the end of the 3rd and final round the ROC scored 4 goals while The Gambia scored 3.
The ROC were crowned the champions and awarded a trophy presented to President Ma by President Jammeh.The kickoff was done by the Vice President Dr Isatou Njie-Saidy.
The match was officiated by The Gambia's FIFA international referee Modou Sowe with O.B Conateh, Chairman of Gambia Football Association Normalization Committee, serving as match commissioner.
At the end of the match, President Ma, who scored the 1st goal of the game, told Taiwanese reporters accompanying him that the day was a very historic day to having two presidents playing.
The match was not a competition; rather a friendship game," Mr Conateh said.
President Ma scored a goal in each of three rounds in which five top officials from each country attempted a penalty.
The president's sporting abilities were previously tested Wednesday when he engaged in a push-up challenge against President Yahya Jammeh. The contest ended in a tie.
Taiwan's team in Saturday's penalty shootout consisted of the president, Foreign Minister Timothy Yang, National Security Council Secretary-General Hu Wei-chen, Labor Minister Wang Ju-hsuan and Vice Economics Minister Lin Sheng-chung.
Wang Hsien-min, an official at Taiwan's embassy in The Gambia, was the team's goalkeeper.
On the Gambian team were President Jammeh, the country's foreign minister, minister of health, interior minister, and secretary-general of the Presidential Office, with the construction minister as the team's goalkeeper.
President Ma scored one goal for Taiwan in each of the three rounds and Yang scored a decisive goal in the third round. President Jammeh scored a goal in the second and third rounds for the home team, and The Gambia's foreign minister added a goal in the second round.
Though the 61-year-old president is mostly known for enjoying non-ball sports, such as running and swimming, Ma is said to have played soccer in high school and college and earned the nickname "brave foot Ma" from teammates.
"The most important thing is friendship, not necessarily winning," they said.
Read Other Articles In Article (Archive)