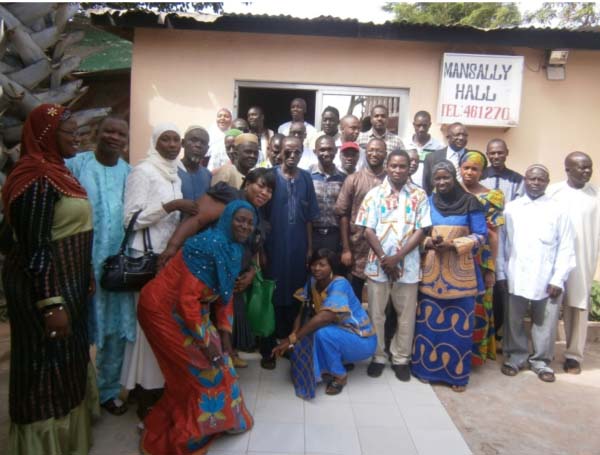 The National Agricultural Research Institute (NARI) in collaboration with Africa Rice Centre Tuesday commenced a two-day Rice Sector Development Hub Stakeholders meeting at Baobab Holidays Resort in Bijilo.
The objectives of the meeting were to pool all stakeholders currently working within and around the Rice Hubs of WCR and CRR platforms, forge partnership to work collectively in the hub areas in ways that guarantee rapid impact, and develop a common vision and outcome based on the shared ideas of the value chain actors.
It was also to communicate on research products such as varieties machinery, rice advice, discuss scalable technologies from research development and value chain actors, assess and establish institution mechanisms for the hubs.
Deputy permanent secretary Ministry of Agriculture, Sherifo Bojang, in his opening speech, noted the importance of the session that needed to be given utmost care and attention.
He said everything was forged toward Vision 2016, and if they have partners like AFRICA Rice always collaborating with them in order to see the development of the agricultural rice sector for the development of The Gambia.
He said they are to facilitate and help them to develop a document or to work around a document that they could use in future to realize what they wanted to get as far as rice sector development was concerned as a ministry and research institute.
PS Bojang said he had no doubt that the invited participants are all fully responsible staff of the rice research institute and the convergence of the two-day workshop would be very fruitful.
"We are all working towards the same common goal," PS Bojang said.
He challenged the participants to use the forum diligently towards producing a very good document that could be used by the National Research Institute in fulfilling the objective of the workshop.
Lamin Jobe, the Director of Research at NARI, welcomed all the participants to the first national rice hub stakeholder meeting, saying the meeting was very timely considering that they have a vision strategy that everybody was working towards that, which is PAGE and PAGE says self-sufficiency in rice production.
He said that at the end of the two-day the participants should be able to link that vision to the national vision of 2016, on how they could contribute through the hub to achieve Vision 2016, set by government.
The hubs focal person, Famara Jaiteh, also gave an overview of hub activities, objectives, expected results and methodology of the workshop.
Esssa Drammeh, focal person, National Rice Development Strategy, made a presentation of NRDS document highlighting specific objectives/targets and state of operationalization or emerging issues.
Dr Philip A. Idinoba of Africa Rice, made a presentation on rice sector development strategy, highlighting the role of hubs and task force. 
Read Other Articles In Article (Archive)