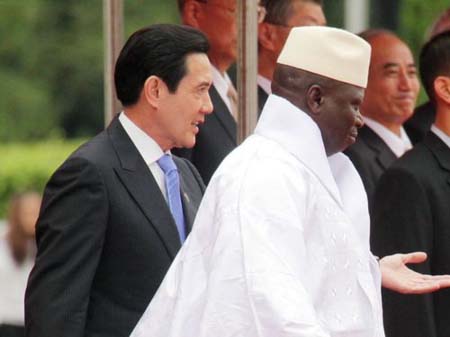 China played no role in The Gambia's decision to sever diplomatic relations with Taiwan, Minister of Foreign Affairs David Lin said Monday.
Lin also ruled out the possibility that The Gambia might establish ties with China in the next six months, saying that information obtained from all sides indicate that the West African nation has had no contact or interaction with Beijing.
Based on a cross-Taiwan Strait consensus on a "diplomatic truce," it has become the norm for Taiwan and China to stop stealing each other's diplomatic allies, he told legislators during a meeting of the Foreign and National Defense Committee.
Earlier in the day, the Taiwan government formally terminated diplomatic relations with The Gambia, in reaction to a Nov. 14 decision by Gambian President Yahya Jammeh to cut ties with Taiwan.
Lin explained that the termination of relations with The Gambia was a choice made to uphold Taiwan's national dignity, after it was determined that there was no chance of reversing Jammeh's decision, even after direct communication with Gambian officials.
Jammeh is known for his strong leadership and likely made the decision on his own, Lin said.
He pointed out that Jammeh had notified Taiwan of his decision by means of a letter to President Ma Ying-jeou, which was not in line with diplomatic protocol under which such an announcement is usually made by a government agency.
Prior to that, there had not been any unusual changes in the relations between the two countries, Lin said.
Asked if the break in ties has anything to do with Taiwan's rejection of a request for financial aid from The Gambia, Lin said the West African nation had not raised any such requests over the past six months.
He said the last time the Gambia made such a request was in January, but he did not disclose the amount of aid sought.
Although Taiwan's relations with its other diplomatic allies have been stable so far, the Foreign Ministry will review and strengthen the implementation of bilateral cooperation programs to prevent a possible "domino effect," he said.
The ministry will also investigate the responsibility of related officials, Lin said, adding that he will "assume full responsibility" if the country loses another diplomatic ally before the end of the year. 
Read Other Articles In Article (Archive)