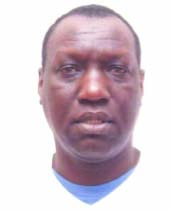 Alagie Faye, a retired FIFA referee, has backed Hala Samba to become the next Gambia Football Association (GFA) president.
He said Hala Samba has been in football for 32 years now and has worked with all past GFA executives and knows all the ins and outs of football.
Mr Faye added that they the elders in football have suggested that anybody contesting for the GFA presidency should have a minimum of 25 years in football even though it is not in the constitution.
He noted that Hala Samba was an international footballer and became leading goal-scorer for three consecutive seasons and after retiring, he went into football administration in which he holds a master's degree.
"He has met with so many international football personalities and has learnt and interacted with them," he went on.
He stated that they will not accept the administrative issues that have been hampering the country's football to happen in the nation's football anymore.
He highlighted the late B. O. Janneh, M.C. Cham, Dr Samba, B.O. Fofana, Mustapha Ngum and others who have been in football for long and also working at the GFA before becoming presidents, noting that this was why they were successful.
"I am appealing to everyone to support and back Hala Samba," he said, adding: "I can assure them that if he is voted in, within the first quarter of his term he will settle all GFA debts."
Football is no more looking at youth or team leaders, he noted, while urging people to select suitable people that can take the country's football forward.
He also said that a mere team representative cannot take the country's football anywhere, saying this is why The Gambia is among the most indebted association in Africa. "Today GFA owes money everywhere," the retired FIFA referee said.  "Let us vote Hala Samba in and if he did not deliver for just a term we take him out."
He called on suitable interested persons to come forward but said they won't accept people coming in last minute to express their interest.
"Anyone who is not suitable and wants to come forward knows that you are embarrassing yourself and football," he said, adding: "Anyone also talking about regions and provinces is talking about his nakedness because the regions and provinces know nothing about football."
Football has no sect, clan or discrimination, he said, adding that they are not siding with anyone but are saying what is real.
He also said beginning from today Friday, they are forming three groups to go to the provinces to enlighten people that they have chosen Hala Samba to run for the GFA presidency and why they want Samba to be the president.
Read Other Articles In Article (Archive)