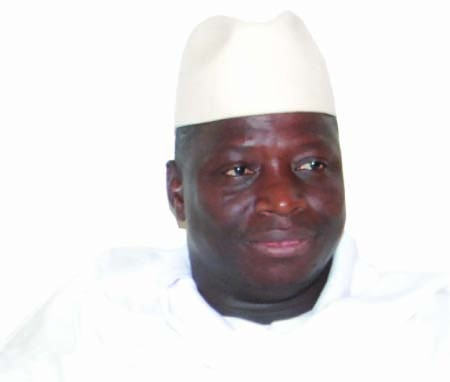 If your heart is not really with us, just resign, but if your intention is to come and say let me work within the system to destroy it, you are making a great mistake, said President Yahya Jammeh to members of his new cabinet on Thursday.
Jammeh, who was speaking during the swearing-in ceremony of Vice President Aja Dr Isatou Njie-Saidy, and the minister of Health, Fatim Badjie, at State House, said a good intention can never be defeated by an evil intention.
"My appointing you has no evil intention; so if you want to reward me or reward this country with an evil intention, you are doom; you have only yourself to blame," he told cabinet ministers.
While commending the cabinet ministers for taking up the challenge, tough-talking Jammeh described the task as a very difficult and daunting one; a challenge that will test them to the limit in terms of endurance, honesty and patriotism.
While expressing his wish for having a cabinet that will be consistent, stable and one that can march towards the promise land, the Gambian leader said he had never had the wish of appointing anyone that he know he will end up dismissing, because he will be wasting time and slowing down progress.
"I have never woken up one morning, and say let me look at one Manjago to fire today; what am I going to gain from that? Anyone of you appointed here, should not go with the impression that Oh! I am just there for a time, because if you have that in mind, you will not give your best and, eventually, you will go out, there is no doubt about that. But if you are here to stay, you will give it your best," he told his cabinet colleagues.
Noting that the bottom line is to have faith, Jammeh described the vice president as the longest serving vice president in the whole world because, as he put it, "if you split her heart open, you will see Gambia".
"Though she makes mistakes like anyone of us, she is one who is dedicated to her duties," he stated.
The Gambia, he added, "is a very small country, we are all related and I will hate to see your children drop out of school because you have been kicked out of government, but I have no choice, too".
According to Jammeh, in his task to defend the constitution, there are pleasant tasks that he has to do ranging from developing the country to appointing people, but there are also unpleasant tasks that he has to carry out in keeping with his oath to defend the constitution, "and that is to get rid of those who are not ready to work".
The Gambian leader also denounced what he calls the lackadaisical attitudes of people at workplaces, noting that one thing that is also unacceptable is that "people work only when Yahya Jammeh is around; when he is not around, you don't care".
Work, he went on, does not only mean what you do as a minister or a secretary general or a permanent secretary, you have to also make sure that you are a leader, and have to set an example for the people that you are leading to follow.
"If you take lackadaisical attitude to work, what do you expect from those under you? On punctuality, you may be there, but still you are absent because if you have your Secretary, PS, DPS or senior officials on facebook instead of working during working hours or you have an unending break, that is unacceptable.," he stressed.
He added: "You go to ministries; you find people eating when it is not time for lunch; you find people coming to work at 10am and by 2:45, they start packing; by 3:30 they are gone. How are we going to develop a country with this type of attitude?"
Also speaking earlier was the Secretary General and head of the civil service, Dr Njogu Bah, who called on members of the new cabinet to focus on the real issues to take the country to another level, with the support of President Jammeh.
"Let us not take anything for granted, and let us know that it is a family," Bah said, urging them not to see anybody as a rival or as a competitor.
He also reminded the cabinet ministers of the need to always concentrate on their work; set their targets and goals, and work towards that.
Speaking on behalf of her newly sworn in colleague, the Vice President commended President Jammeh for the confidence reposed on them, noting that Gambians always believe that President Jammeh chooses for a reason, and has chosen all of them as members of cabinet because of a reason.
"I can assure you that our appointment is a challenge," she said, adding that they will live up to and meet the expectations of the Gambian people.
"We will do our best, to the best of our ability," Vice President Njie-Saidy assured President Jammeh.
Read Other Articles In Article (Archive)