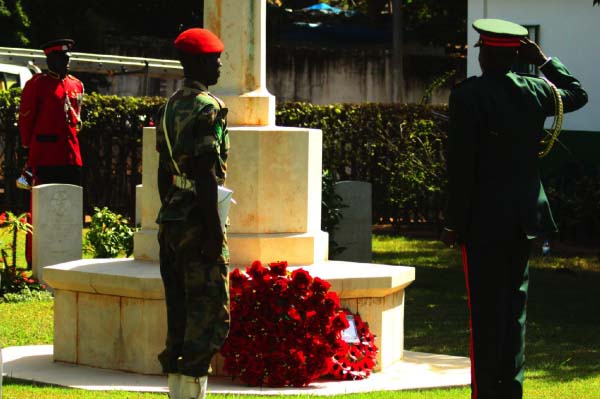 The British Embassy and local dignitaries on 11 November marked Remembrance Day in The Gambia with a ceremony at the Commonwealth War Graves in Fajara. The year 2014 marks the 100th anniversary of the start of the First World War, the observation of which included a two-minute silence observed on the 11th hour of the 11th day of the 11th month.
The British Ambassador, Mr Colin Crorkin MBE, led the ceremony and also laid a ceremonial wreath of poppies on behalf of Her Majesty Queen Elizabeth II.
Wreaths were also laid by the Gambian Chief of Defence Staff Lt Gen. Ousman Bargie, the Inspector General of Police Yankuba Sonko, Lt Col Simon Barnett MBE, LANCS, British Defence Attaché of the British Armed Forces and many other dignitaries and members of the public.
Around 400 people attended the ceremony including Gambian veterans who fought in World War II as well as senior members of the diplomatic corps.
Prayers were offered for those who had lost their lives fighting in conflicts from Vicar General Reverend Canon James Yaw Odico, Anglican Mission as well as from Imam Mohammed Njie representing the Iman Ratib of Banjul.
Speaking on behalf of Her Majesty the Queen, British Ambassador Colin Crorkin said at the ceremony: "At 11 am on the 11th of November 1918 the guns of the Western Front fell silent after more than four years continuous warfare.
"The 11th hour of the 11th day of the 11th month, the moment when hostilities ceased on the Western Front became universally associated with the remembrance of those who had died in the war.
"After the second world war this day was adopted as Remembrance day. A day that forever more would be marked as the day to remember those that made the ultimate sacrifice.
"Before the first world war the Gambia, Ghana, Nigeria and Sierra Leone created local infantry units. Together they formed the Royal West African Frontier Force.
"A title made famous in the two World Wars as they took part in successful operations across Africa. The bravery of this force is remembered with pride. Of particular note is the battle of Mowdok where the 1st Battalion The Gambian Regiment was honoured.
"During and after the Great Wars many service personnel were buried throughout The Gambia. In 1949 the Fajara War Cemetery, where we gather today, was commissioned to act as a final resting place for these servicemen.
"The Fajara War Cemetery contains 203 graves made up of 122 West Africans, 63 British, 10 Canadians, two Australians, two French, two New Zealanders, one Norwegian and one Rhodesian.
"Today we not only commemorate those buried here or those who died in past conflicts, but we also think of the members of our armed forces presently serving on active operations in various parts of the world.
"I want to thank you all for coming here today. I also want to give special thanks to staff members of the British Embassy who put a tremendous amount of effort into organising today's service and also to the team of gardeners who maintain this cemetery to the highest standards deserving of those who are commemorated here."
Read Other Articles In Article (Archive)