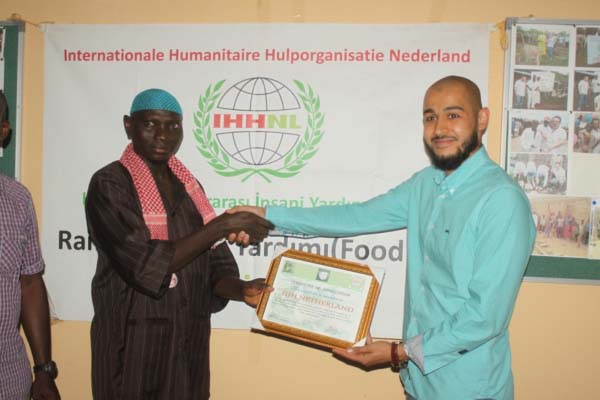 Cemiyetul Hayr Relief Organisation (CHRO), a non-profit organisation, on Monday presented certificates of appreciation to IHHNL, an international humanitarian organisation based in the Netherlands.
The certificates were in recognition of the Netherlands organisation's humanitarian support to needy Muslims in The Gambia.
Speaking at the presentation ceremony, the secretary general of CHRO, Alagie Jawo, said IHHNL is contributing in no small way towards the socio-economic development of The Gambia.
It is because of their support that CHRO presented the certificate of appreciation to tell them 'thank you' while enticing them to do more to aid needy Gambians.
CHRO is a charitable organisation operating in The Gambia for the past 15years.The objective of the organisation is to help the poor and needy Gambians through the "generous support" of their international partners like IHHNL.
Mr Jawo said at CHRO, they help all needy individuals proportionately irrespective of whether one is a Muslim or Christian.
Within the past few years, the organisation has dug many local wells and equipped them with hand pumps.It also continues to sponsor orphans at many schools in the country.
Recently, the organisation, in partnership with Sendegel, inaugurated a solar refrigeration project in Jarra Japineh, Kiang.The community dwellers were also given micro-finance credit facilities through the project.
CHRO secretary general thanked The Gambia government for creating the enabling environment for international organisations to invest on Gambian people.
Mr Jawo also thanked one Musa Jallow who he said linked the organisation to international donors from Belgium, the Netherlands and other parts of the world.
These donors help CHRO to help needy Gambians, especially during the month of Ramadan and Tobaski.
Receiving the award, the team leader of the donors expressed gratitude to CHRO and pledged to bring more support for needy Gambians. He also applauded the hospitality of Gambians.
Read Other Articles In Article (Archive)