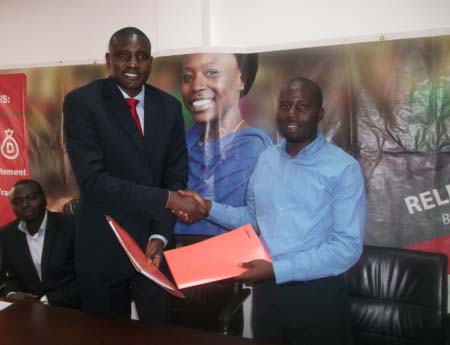 Reliance Financial Services yesterday signed an agreement with Gamtel that would see the national telecoms company providing stronger and quality internet service on fiber network to the financial institution.
The agreement, signed at the Reliance head office in Kairaba Avenue, would contribute to increasing the overall productivity and efficiency of the financial institution through better quality internet for customer services.
Speaking on the occasion, the managing director of Reliance, Babucarr Khan, said the agreement would ensure reliable, secure and fast internet connectivity for all the branches of Reliance, nationwide.
He said this is part of continuous effort at strengthening and enhancing the internet connectivity of Reliance, particularly in the rainy season and especially in the rural areas.
The Reliance MD said the board has approved more than D1.5 million to be used in building and upgrading the infrastructure at the company's head office and other branches.
The nine-year-old financial institution is acclaimed as the only licensed financial services company that has a presence in all the municipalities and administrative regions of The Gambia.
Mr Khan explained that the company is working towards effecting services whereby customers can buy Gamtel scratch cards to buy credits from Gamcel, Africell and QCell with the reliability of fast internet connectivity.
Sarjo Khan, director of customer service at Gamtel, said the commissioning of Gamtel-Reliance fiber connectivity project is a big milestone for both companies.
He noted that fiber is the most reliable and secured medium of transmission as far as telecommunications is concerned.
He commended Reliance for partnering with Gamtel for fiber connectivity, saying Gamtel will continue to make sure all the support needed for institutions to efficiently operate is achieved.
Mustapha Ceesay, Gamtel senior marketing manager, reiterated that fiber product is one of the most reliable and secured internet connectivity in the world of telecommunications.
He said Gamtel has gone extra miles to ensure financial institutions are fully secured by providing them with faster and secured fiber connectivity.
Momodou Joof of Reliance said that since the launching of the project, they have observed significant improvement in the service delivery through the fast connectivity.
Mr Joof assured that Reliance would continue to upgrade and enhance its capacity through technology.
Read Other Articles In Article (Archive)