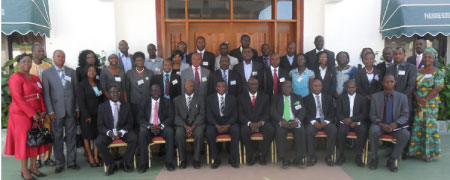 A five-day regional course on developing bond markets (issuance and pricing strategy) and risk management in financial services is under way at the Paradise Suites Hotel in Kololi.
Organised by the West African Institute for Financial and Economic Management (WAIFEM), the course, which opened yesterday, is among others designed to strengthen the capacity of participants in deepening of the markets while highlighting essential areas that are needed to help the function of local currency bond markets.
The course comes hot on heels of a growing recognition all over the world that financial development matters for economic growth.
Speaking at the opening ceremony on behalf of the Director General of WAIFEM, Professor Akpan H. Ekpo, the Director of Debt Management Department WAIFEM, Baba Yusuf, said the financial system contributes to economic development by enabling firms, governments, and households to manage risks, avoid having to sharply compress their spending in bad times, and invest in high-return projects that might otherwise remain beyond reach.
He stated that the price system emitted by the financial system informs investment decisions and generally guides resource allocation decisions.
According to Professor Ekpo, the bond market is a key element, along with the banking system and equity and derivatives markets, of a well-developed financial system.
'This is not to say that the bond market can substitute for these other components where they are inefficient or underdeveloped; however, it can complement their operation and reinforce their positive influence on economic development,' he added.
He further stated that a well-developed bond market, with both government and corporate segments, can enhance the efficiency with which the financial system helps to allocate resources within the economy and buttress financial and marco-economic stability.
'The financial markets in West Africa and indeed most sub-Saharan African countries are shallow, and have inadequate access to finance,' he said, adding that as a result, mobilization of domestic resources as an alternative source of financing is becoming increasingly important in Africa, with many of the governments focusing on domestic markets in order to avoid recourse to unsustainable external indebtedness.
In his welcome remarks on behalf of the Governor of the Central Bank of The Gambia, Amadou Colley, the first Deputy Governor of the Central Bank of The Gambia, Basiru Njie,  said that bond markets are central to the development of an efficient economic system, as they help make financial markets more complete by generating market interest rates that reflect the opportunity costs of funds at a wide range of maturities.
This, he added, is essential for efficient investment and financing decisions and the absence of such markets constrains investment opportunities.
According to the CBG Governor, the development of bond markets reduces dependence on bank financing and better still spreads corporate risks.
Noting that bond markets can provide useful guidance for the setting of macro-economic policy, Colley said because bond markets react quickly to policy decisions, policies can be adjusted at an early stage.
He told the participants that central banks should be particularly interested in the development of bond markets as it helps to finance budget deficits in a non-inflationary manner, enhancing the effectiveness of monetary policy.
Read Other Articles In Article (Archive)