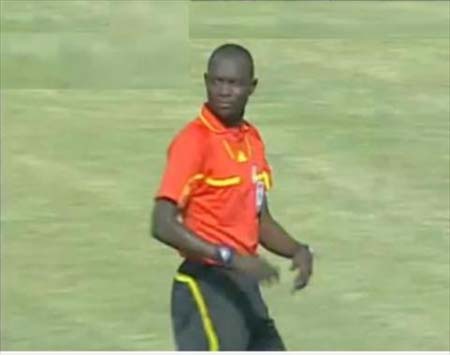 Bakary Papa Gassama, Gambia's top FIFA and CAF referee, recently donated a brand new electronic player changer board to the Serrekunda East Sports Development Organisation (SESDO) at a presentation ceremony held at the committee's office at Serrekunda East Mini Stadium.
Speaking to reporters, Baboucarr Sohna, Public Relations Officer (PRO) of SESDO, said they are very happy with the gesture and are praying for Bakary Papa Gassama in this Holy month of Ramadan to achieve all what he desires in life.
Sohna said the donation came at a time they needed it most, adding that they had been crying for it for years and fortunately a loyal supporter and native of the zone who feels he has a part to play towards the development of the zone has come to their rescue.
PRO Sohna described the player changer board as "classic and expensive", saying it will serve them for years.
The Serrekunda East spokesperson further described the gesture from Papa Gassama as "touching" because he could have invested in his family but because of his love for sport he decided to shelve family plan for sport.
There are people wealthier than him but are not investing in sport, he said, calling on people to emulate Papa, as the Ministry of Youth and Sports and the Gambia Football Federation cannot do it all.
Sohna said sport prevents youth from drug abuse and crime and also keeps them healthy.
He also called on people to encourage and supportthe youth into sport, saying: "At Serrekunda East Mini Stadium anytime you come here you find youth playing football, volleyball and handball."
"People cannot come from Europe to develop our sport for us; we have to develop it ourselves," he remarked while calling on people to emulate Papa Gassama in investing in sport.
Papa did not donate the player changer board to look for name or fame because he has already made a name for himself both locally and internationally, he remarked.
"He did it because of the love he has for the game, and also knows he has a role to player towards the development of sport," Sohna noted while calling on all Gambians to pray for Papa for Allah to grant him whatever he wishes for himself.
Bakary Papa Gassama was decorated with the Referee of the Year award, during the National Sports Journalists Association of The Gambia award ceremony held on 1 September 2012.
The Gambian referee's award, which was a special one dedicated to him, was sponsored by Gambian/US-based international referee Baboucarr Jallow.
Gambian referee Bakary Papa Gassama was part of 84 officials appointed by FIFA to officiate the London 2012 Olympic Football Tournament.
He has also been shortlisted among 21 African referees to be part of a list of 52 pre-selected referees for the 2014 World Cup to take place in Brazil. 
Read Other Articles In Article (Archive)