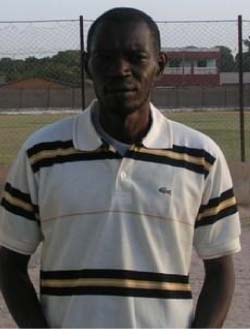 Real De Banjul will today play Cassa Sports in a friendly at the Independence Stadium in Bakau ahead of their CAF Champions League outing.
Speaking at a press conference held at the Independence Stadium yesterday, William Abraham, President of Real De Banjul FC, said the club is currently preparing for the CAF Champions League and as part of the preparation they would organise a test match with Cassa Sports.
He added that they will also be organizing a fund-raising dinner with Jaliba Kuyateh on the 30 December 2012 at the Paradise Suits Hotel to help in raising the finances of their upcoming outing.
He said they will also give awards to people who have contributed a lot towards the development of the club on the day of the dinner.
The prize for the golden table is D30,000, silver table D15,000 and individuals D1,500, he said, calling on the general public to come out and support the club so that they can raise enough money for their CAF Champions league.
He also remarked that they have signed a partnership with a marketing company in Sweden called football network that will help the club in various areas.
He noted that in the past Real De Banjul had sent players for trials to Europe but most of them came back, adding that with this partnership, football network will try to get an affiliation club for Real De Banjul to act on their behalf when players from Real De Banjul go for trials in Europe.
"There are a lot of things in the pipeline," he went on, saying if football network are able to create this affiliation for Real De Banjul they will benefit a lot because they will serve as their agent in Europe.
Asked about the transfer saga, he said, there is no mafia, adding that football is business and that there is no player that has ever played for Real De Banjul illegally.
"Any player that comes to Real De Banjul there is a negotiation between Real De Banjul and the player's club," he also stated, adding that they are mature and go by the rules and regulation governing football.
They have changed the lives of many players and their families, Mr Abraham also said, adding that playing in the CAF Champions league is an opportunity for Real De Banjul players.
Alagie Sarr, head coach of Real De Banjul FC, said they will balance their team this season and are recruiting players to help them in the champions league.
He noted that they have young talented players but some of them do not have the experience of playing in the CAF champions league, which is one of the reasons they are scouting players.
When scouting, they look for more versatile players and players who are also very good with the ball, he said, adding that football is all about commitment, which is what is lacking in most of the Gambian players.
He said their target this time around is to reach the group stages because they have played in the CAF Champions league in the past but always get eliminated in the second round of the preliminaries.
Read Other Articles In Article (Archive)