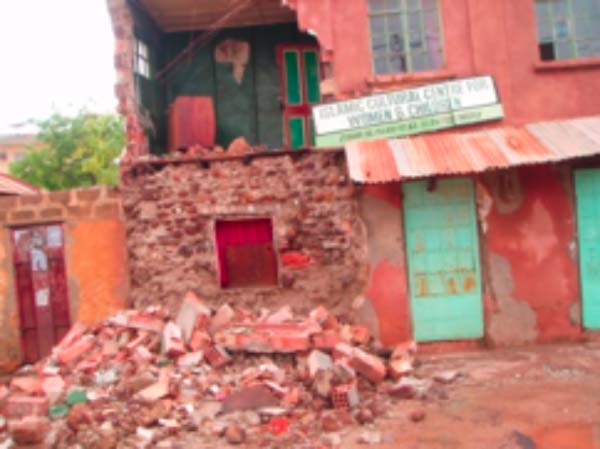 Heavy rainstorm seriously destroyed 22 households and affected about 93 residents of Banjul, as well as Muslim Senior Secondary School in Banjul.
The heavy downpour on Friday, which started around 4.30 pm and lasted for about an hour, destroyed the roof tops and buildings of 22 households in the capital city of Banjul.
Few people were reported to sustain injury from the disaster last Friday. However many houses were seriously damaged in Banjul, with some roofs blown away
The affected houses included that of Aja Maimuna Savage, a renowned Islamic female scholar in The Gambia.
Speaking to The Point about their ordeal, Mrs Savage, who stays in Louvel Square with the family, said "it is the will of God for it to happen".
"It is sad because I was born in this house," said Aja Ramata Savage, the elder sister of Aja Maimuna Savage.
City council officials who visited the affected households went round together with the City Disaster Management team to assess the magnitude of the damage and the victims.
Muslim High School also had the roof top of its classroom building removed by the rainstorm.
The Old Police Line building was also not spared, as its roof top also got removed by the storm.
Speaking to this paper, Hudul E.N. Colley, Banjul Disaster management coordinator, said they were assessing the damage and the number of affected people.
Read Other Articles In Article (Archive)