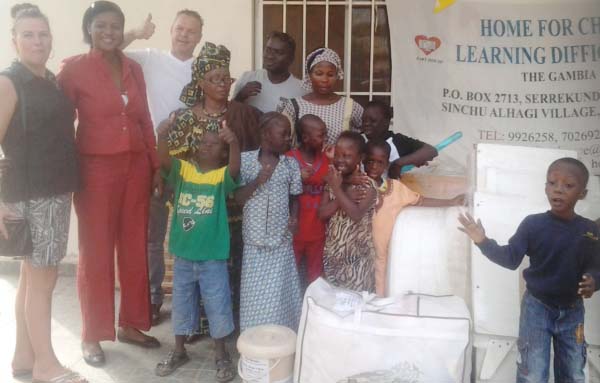 A Dutch foundation, Rainbow for Gambia, has donated seven beds with mattresses and boxes of clothes and toys to Hart House, a home for children with learning difficulties in Sinchu Alhagie, Kombo North.

Speaking at the presentation ceremony at Hart House yesterday, Penda Sowe, national coordinator of the foundation, said the materials are expected to make the lives of the children more comfortable and fun.
The foundation, established in 2005, gives support to the two most critical areas of development: education and health.
In the area of education, Rainbow for Gambia has almost completed building a primary school in Manjai. Mrs Sowe said the school will be handed over to the community in February 2017. The foundation had supported Brufut Upper Basic School and a nursery school in Sukuta with school materials including desks and chairs.
In the area of health, Rainbow for Gambia has built a health centre in Niamina Peyai, and donated theatre equipment to the theatre ward of Serekunda General Hospital, the second largest hospital in The Gambia.
Mrs Sowe said before the donation of the equipment to the hospital, it was very difficult for the Ministry of Health to get them for the hospital. The foundation has also supported Brikama Health Centre labour ward with some medical equipment.
As part of its future plans, the foundation is to build a health centre in Bullock when funds are available.
Rainbow for Gambia national coordinator said they mainly support health and education because any support in these areas touches the lives a lot of people.
She thanked Rainbow foundation partners in Holland for their continued support.
The foundation's partners in Holland do organise trade fairs, church collections and also do collect apples for sale so as to raise fund for the operations of the foundation in The Gambia.
Geoff Hunwicks, chief executive officer of Hart House, expressed gratitude to Rainbow for Gambia and its partner Goods for Gambia, a Dutch foundation that transported the donated materials to The Gambia.
"We are grateful to the Dutch people; they are prominent in all areas supporting our operations," he said.
Mr Hunwicks said the donated beds would be useful in replacing the old wooden ones currently being used at the centre.
Rohey Hunwicks, managing director of the centre, said some of the beds being used by the children are 10 years old.
"We have been nailing them every now and then so that the children can use it comfortably," she said.
Madam Hunwicks expressed special thanks to the donors for considering the lives of the poor innocent, children at the centre.
Read Other Articles In Article (Archive)