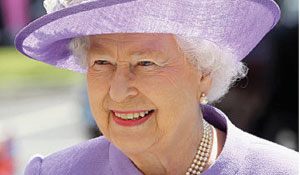 The British High Commissioner to The Gambia, David Morley, on Thursday hosted a reception at his residence at Cape Point to commemorate the birthday of Her Majesty Queen Elizabeth II, and to mark her Diamond Jubilee .
The reception attracted senior government officials, members of the diplomatic and consular corps, among others, and also saw the celebration of the successful London 2012 Olympics and Paralympics games, as well as celebrating the strong and friendly links between the peoples of The Gambia and the UK.
Guests were treated to canapés and drinks in front of a large TV screen showing highlights of the London 2012 Olympics and footage from Her Majesty's Diamond Jubilee celebrations, during which the entire UK celebrated 60 years of Her Majesty being on the UK throne.
Speaking at the reception, High Commissioner Morley described the year 2012 as a remarkable one for the United Kingdom, citing the Olympics and Paralympics games.
According to him, of the previous British monarchs, only Queen Victoria had celebrated a Diamond Jubilee, in 1897.
Morley described the Olympics and Paralympics games as the greatest ever, not just because Great Britain team won more medals than they have done in over 100 years, but more generally, witnessing some of the most iconic moments in Olympic history.
Highlighting the strong relations between The Gambia and the UK, the British diplomat said many Brits choose The Gambia as the base for their retirement or their second home.
He recalled that the UK government earlier this year donated £500,000 (over 24 million dalasis) to The Gambia to help with the food crisis.
"The UK government also continues to financially support the Medical Research Council (MRC) VSO, EU, the UN and the African Development Bank all of which work within The Gambia on development and assistance projects," said Morley.
He added that there is much more in the pipeline, while hoping to continue the efforts in the years ahead to maintain bilateral relations.
Speaking on behalf of the Gambia government, Francis Liti Mboge, Minister of Works, Construction and Infrastructure, described the queen as one of the most visible and iconic symbols of peace and stability.
He called on the gathering to reflect on the remarkable life of the monarch who dedicated her life to the British people and the Commonwealth.
Commenting on the Gambia-UK relations, Mboge noted that after 400 years of colonial rule, the relationship between The Gambia and Britain has evolved into a strategic partnership based on mutual respect and understanding.
The UK, he added, has trained many Gambians, who have in turn made significant contributions to the development of this country.
He reiterated the Gambia government's commitment to work with the UK for a harmonious world and international cooperation.
He also commended the UK for the successful London 2012 Olympics and Paralympics games.
Read Other Articles In Article (Archive)