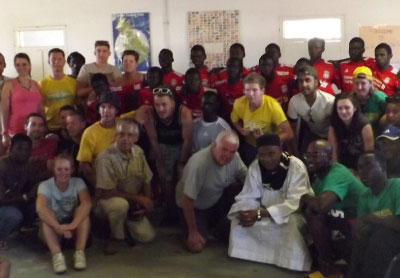 The Jersey Gambia Schools Trust recently donated several schools in the village of Sohm, West Coast Region.
Speaking to this reporter at Jersey Technical Senior Secondary School in Sohm, the chairman of Jersey Gambia Schools Trust (JGST), Mr. Robin J. Mallet, said Jersey Gambia Schools Trust has for the past years rendering assistance to both Jersey (Sohm) Technical Senior Secondary and Sohm Lower Basic Schools.
"Jersey Gambia Schools Trust is a small registered charitable organisation which aims to improve the quality of the education offered to children and young adults in The Gambia," he said.
"We assisted Sinchu Baliya Lower Basic School in West Coast Region and we also decided to raise funds to help lots of schools in The Gambia."
Mrs. John Walker, founder UK Charity Sohm Schools Support, who spoke to this reporter, said together with his wife he founded the charity, with the aim of giving support to Jersey Senior Secondary Technical School.
"We raised money for two schools: the Sohm Lower Basic and Jersey (Sohm) Senior Secondary Technical School and our relationship with these two schools started two years ago, with the donation of educational materials. We are here to help with the education of young people in schools in the village of Sohm," he stated.
He said they often provide goods for all the pupils in the school, ranging from text books in core subjects like English, Math and Agricultural studies.
"We have also arranged for the direct sponsorship of about a dozen youngsters, who would otherwise have been denied a school place," he said.
According to Mr. Walker, they gave sponsorship packages to some pupils, including basic items like school uniforms and mid-day meals (average of 5p per day).
"We were impressed with the work undertaken by a Jersey couple, Robin and Carol Mallet, in establishing a secondary technical school in the village of Sohm, close to The Gambia's borders with Senegal.
Robin and Carol have over a period of one decade raised money to build the school in Sohm where schools had been none existent, he added.
Recently, as it has become a more general secondary school, Robin and Carol continued to find money for developing the schools, meet the cost of paying salaries and running of the school.
The charity has been established in the UK, for the sole purpose of improving the quality of education in the schools, he added.
Mr. Ian Stapleton, founder of the UK Charity, called Football Gambia said his charity is helping to promote education, through football and develop communities in The Gambia.
He said Football Gambia is a small non-profit UK charity that works with football clubs, academies and schools, to ensure that children and youth attend school and live a healthy lifestyle.
"We have organised projects from sponsored cycling to volunteers visiting The Gambia to help with football coaching and community work," Mr. Stapleton said.
Mr. Stapleton said Football Gambia was set up in 2009, as John Walker concentrated on the Sohm Schools Support. He noted that the two are separate entities that are hosts to 50 people from the UK, who raised money to come to The Gambia.
"As Football Gambia we are transparent so that people who put their money can know where their money goes and as part of this trip, we also presented football jersey and footballs to Jersey Technical Senior Secondary School," he said.
Read Other Articles In Article (Archive)