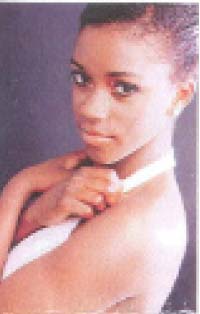 Marie Kumba Gomez, the Gambian who won the Class Act Talent Hunt in the UK, is expected to starring Chioma, Chukwuka-Apotha and John Dummelo on Monday 26 December 2011 at the Kairaba Beach Hotel starting at 9pm.
The programme is dedicated to the women of The Gambia. PointEntertainment was also informed that Miss Marie Kumba Gomez did win the first edition of Class Act UK Talent Hunt to become the lead actress in the movie - "The past came calling" - which was shot in London. Kumba won the contest out of over 1000 people.
Kumba being a Gambian, in her respect, movie producer Ruke Amata of Media UK Ltd has decided to premier the movie here in The Gambia on Boxing Day, 26 December 2011, at the Kairaba Beach Hotel.
Kumba, a young Gambian actress, has starred alongside top Nollywood film stars such as Chioma Chukwuka-Apotha of Nigeria, Penelope Bouchot, Oliver Jolliffe of England, Demetri Turin of Greece and John Dummelo of Ghana.
The emergence of Kumba Gomez has been in the news around the world and The Gambia.
"We believe this presents a major opportunity to extensively promote The Gambia's tourism potential across key tourist markets in the world," says Ruke Amata.
"We believe there exists an opportunity to use our international media and advertising links to promote The Gambia to our target market, who happen to be inspirational, well educated, international, high spending professionals from Europe, Africa, the Caribbean and America.
Don't miss this special programme with world class actors in attendance, with special entertainments from Kumba Kuyateh, Genevive Cardos and Youth Actors Association.
Meanwhile, Kumba Gomez yesterday arrived in the country to promote her award.
Read Other Articles In Article (Archive)