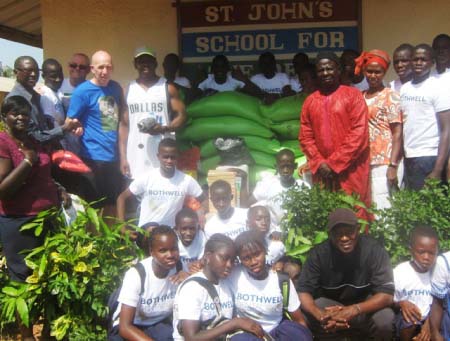 Frank Devine and Paul Lafferty, members of Project Gambia People Feeding People-Scotland, on 6 November 2013 boosted St. John's Basic School for the Deaf with food and non-food items.
They donated to the school 25 bags of rice, 3 bags of sugar, 3 bags of onions, 6 drums of 20-liter cooking oil, 3 bags of detergent omo, 2 cartons of canned beef, 2 cartons of tomato paste, 3 packets of soap, associated condiment and sportswear.
Frank Devine, speaking at the presentation ceremony held at the school grounds in Kanifing, said they represent the Scottish Soul Funk and Jazz Society.
According to him, they are in the country on behalf of Project Gambia People Feeding People, to who raise money, come and offer help to Gambians in need.
He noted that they found St. John's Basic School for the Deaf and felt they really needed help, which is why they decided to use all the money they raised in Scotland to assist them.
"We thought the best way of helping the school would be to buy food items for them," he stated, adding that they had great help from their two Gambian representatives - Alasan Camara and Modou Lamin Khan.
Mr Devine thanked the school management, saying they hope that would be the start of a long and fruitful relationship.
They knew the school was desperate for hiding it for the children and promised that they would try to make sure they get as many hiding aid as possible and send it to the Gambia next year.
Devine also took time to thank their sponsors such as: Bothwell Dental Care, Deep fried sojl Craig and chaz, Mrs Ruth, Nicholas Stewart, Lets Coback way back Gary Rob and Nick, Skills Development-Scotland, Crosshill Parish of Scotland, Elaise Campbell Mcquade, Marcella Mcarthur and Project Gambia.
Daniel J. Mendy, Principal St. John's Basic School for the Deaf, thanked the donors for coming to their aid on behalf of the school management, students, parents of the students and anyone concerned in the education of the deaf.
He said the donated items will be put into good use, adding that it would make the students happy.It would also reduce the risk of students going out of the school and cross the road to look for food to eat, he added.
The gesture is important and will help in one way of running the school, he stated, while also thanking the Ministry of Basic and Secondary Education.
Mr Mendy noted that their main constraint is meeting the fueling cost of their school buses and mentainance, adding that there is a need for at least D13,500 for the weekly fueling of their school buses.
He said that at some level they had to even terminate the movement of their buses because they could not afford the fuel cost involved. He therefore called on philanthropists and individuals to come to their aid.
"The transportation of our students is our biggest headache," Mr Mendy also said.
Amadou Touray, Honorary Life President of the Gambia Association of the Deaf and Hard of Hearing, said: "An empty bag cannot stand and with food you cannot also survive, so we thank and pray for you."
Mr Touray also devoted his time in calling for help to the organisations of the disabled.
Read Other Articles In Article (Archive)