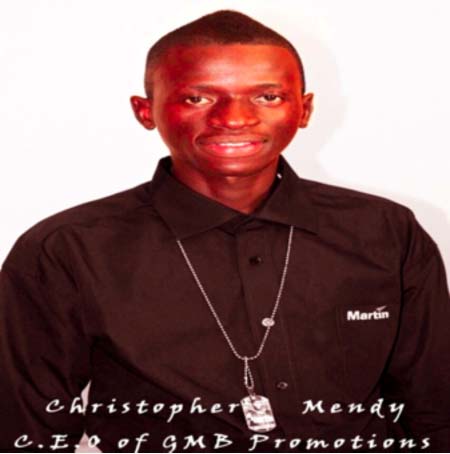 (Issue, Friday 27 March 2015)
The Famous GMB PROMOTIONS which has reached the international entertainment market is owned by a very young, talented, ambitious, multi-talented, industrious Gambian by the name
CHRISTOPHER MENDY alias CHRIS BLACK.
He is 22 years old and a graduate of Ndow's comprehensive senior secondary school.
Mendy studied the Art of Entrepreneurship, and is presently living in Brikama Nyambai. Here comes the success story.
Chris Black started promotions at an early age, when he faced a lot of challenges and criticism coming his way. However, today the Western world has noticed his reputable company.
Many people have the belief that EDUCATION IS THE KEY TO SUCCESS. But I Chris Black have this in me that CREATITY is the Key to Success. One should be creative, and know how to think out of the BOX.Act on your own rather than the direction of others, he said during an interview.
GMB Promotions is a promotional company based in The Gambia, where it is registered and working legally.
"We aim to promote both unsigned and signed artistes; to enable partnerships that support Gambian musicians and the music industry to flourish locally, nationally and internationally; to enable the development of sustainable ambitious music venues and networks that collectively offer a world-class programme of performance, participation and support in all genres of music in The Gambia and the region; to also realize the potential of music to help deliver the health, economic, education and community cohesion priorities for Gambia, as our motto reads: 'Empowering youth and bringing talents to life'".
As music is a unique way of communicating that can inspire and motivate children, the CEO of GMB Promotions said it is a vehicle for personal expression, and it can play an important part in the personal development of people.
Music reflects the culture and society we live in, and so the teaching and learning of music is important.
Enables children to better understand the world they live in. Besides being a creative and enjoyable activity, music can also be a highly academic and demanding subject. It also plays an Important part in helping children feel part of a community. We provide opportunities for all musicians to create, play, perform and enjoy music; to develop the skills to appreciate a wide variety of musical forms, and to begin to make judgments about the quality of music.
Yes, we have signed artistes and also are working with 75% of Gambian musicians.
Internationally, all the Jamaican artistes pass through our company to have their gigs in The Gambia, talk less of other international musicians we do promote their shows.
On February 14th, 15th and 16th 2015, we are having The Morgan Heritage Family live in The Gambia.
We can be reached VIA email……… gmbpromotions@musician.org/Facebook.
Read Other Articles In Article (Archive)