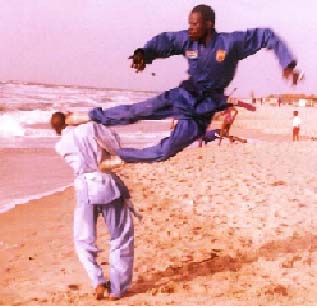 Pointsport is proud to present the first Gambian Black belt holder in Vovinam - Viet Vo Dao, who climbed the ladder in August 2009.
A rare product in the area of his specialty in the country, Mamoud Njie was born on March 17th 1986 in Latri Kunda Sabiji
Vovinam, in short, means Martial Arts of Vietnam which was first introduced in the fall of 1938, by Founding Grand Master Loc Nguyen.
Master Mamoud success was made possible after undergoing a four-year intensive training on Vovinam- Vo Dao in Senegal, with a local club called Jareh Ndow in St Louis (Ndarr). The Technical Director of Senegal Viet Vo Dao Inter - continental approved his black belt after successfully passing the exams.
On April 9th 2005, Mamoud joined Jarreh Ndow club because of his love for the Martial Arts.
Because of his dedication for the Martial Arts that helped him focus on an intensive training on daily basis, he was able to obtain his black belt in four years, which unlike others was made in seven and a part-time affair.
"I was doing it on full-time basis this is why apart from my first level, in all my exams up till the black belt I came out first and always represent the club in local competitions," the determined martial artist stated.
His performance caught the eyes of his compatriots in Senegal, who needed him to train for their national team.
His master is Sheikh Amat Khali Faal, the President of examination competition of Senegal, Regional Technical Director and National Technical Director of Mali.
Like others in different parts of the world, Mamoud strives to reach the height of martial arts in order to serve mankind faithfully, build up martial arts discipline and develop a new generation of Vovinam youths.
While training in Senegal and before obtaining his belt, he was also imparting skills to a group of 35 adults and 20 kids, at the Gambia Martial Arts Academy in Latri Kunda School (LK).
He is poised to live in harmony with others, respect his seniors and love fellow disciples.
As a Viet Vo Dao Disciple, it is paramount that one must obey Vovinam's rules and regulations, and upholds the honour of a martial artist, respect other disciples of martial arts, and only use force in self-defence and defence of justice, live an honest, modest, and noble life.
Mamoud is aware of this fact and told Pointsport that the benefits of practising  Vovinam - Viet Vo Dao martial arts, is that it  helps overcome all obstacles in life, develop sound judgment and stamina, and act with wisdom. It also makes one to be self-confident, self-controlled and benevolent; and constantly helps one to strive for improvements.
Despite it is new in the country, Mamoud is also nursing high hopes of representing the country at international level and is anticipating that his students will also make the future of Vovinam- Viet Vo Dao in the country with black belts like him.
"The students at the academy are very keen to develop their skills. In next January, it will be two years since this idea came into being. Now we train on Mondays, Wednesdays and Fridays, but only second level students come to train on Saturdays. This is because the more you are into it, the more training you need in order to excel," he stated".
As part of his plans to see many back belt holders in the country, Mamoud said, the students will get all their belts in The Gambia. This, he believed, can be attainable with the help of his master from Senegal who will help examine and grade them for their belts.
The future looks bright for the young Vovinam- Viet Vo Dao artist, as he undergoes his black belt programme.
Founding Grand Master Loc thrives' to create a Vovinam, is said to be concentrated on a vast development of the mind, body and soul which was made possible through extensive research in the fields of philosophy, literature, anatomy and medicine by founding grand master Loc.
In Africa countries like Ivory Coast, Niger, Algeria, Morocco Burkina Faso, among others, practise vovinam-Viet Vo Dao.     
Read Other Articles In Article (Archive)