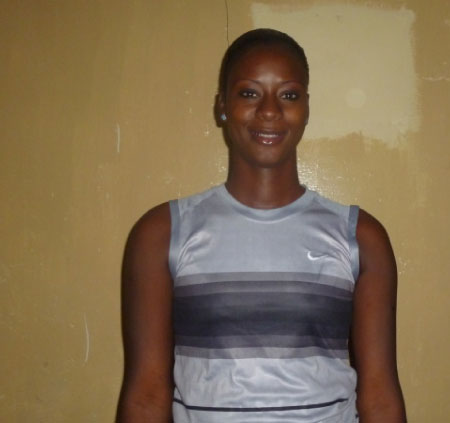 Jamilatou Gai is among The Gambia's female volleyball players engaged in the promotion of volleyball in The Gambia and beyond.
She is committed, dedicated and serious towards the game, as she plays for Interior's women volleyball team.
Jama started taking part in sports since her childhood during her school days when she was good not only in volleyball but also basketball.
The agile and strong sports woman is also good enough to do all kinds of sports.
She said: "One day I trained with my team, Gorillas Volleyball team, attheGambia High school with my colleagues in volleyball , then all of a sudden we sawOusman Sonko the thenMinister of Interior , andhe approached us and said he wantedto form Interior volleyball female team and asked us tojoinInterior's team and convinced usuntil we accepted. This was how I came to Interior volleyball team as player after undergoing all the training at the Police Training School. We are appointed as security officer under sports."
Jama said the team was inexperienced in the competition but now they are the lions in volleyball in The Gambia for all teams, because they have won trophies.
Interior volleyball team has the upper hand in the national volleyball league
They have also taken part in a Zone Two volleyball tournament in Dakar Senegal.
Another achievement, she said, is that Interior have been wining the knockouts and the leagues but recently they lost to Gamtel at and won the knockout.
She also said that initially volleyball was not famous in The Gambia but now it is among the most popular sports apart from football.
"This is because now we have a lot of teams in the league who pull crowds whenever there are matches; but not many people were interested in the sport. As I am talking to you now Interior female volleyball team have won the volleyball league , and we are going to the knockout final with GAF, but it is yet to be decided."
Read Other Articles In Article (Archive)