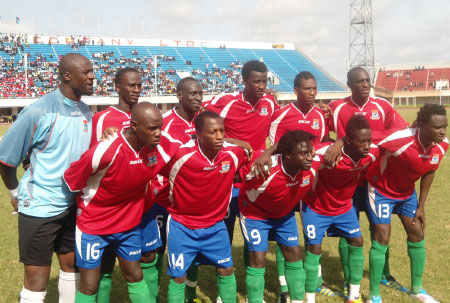 The Gambia has maintained its position in the fifa rankings released on Wednesday.
The Scorpions, who scored 292 points in last month's ranking with a position of 113th in the world and 30 in Africa, have filed the same record this time around after making no progress in the point scoring.
This could be linked with the lack of no activity or friendly games played within the period.
The Scorpions would soon open their campaign in the World Cup qualifiers next month.
Bafana Bafana have moved up four places, according to kickoff.
Pitso Mosimane's team has been on a downward spiral in the past few months, but they have now managed to arrest the downslide.
Bafana, with 500 points, have moved from position 71 to 67 in world rankings, but are ranked a lowly 14th in Africa.
Meanwhile, the reigning world champions, Spain, with 1,442 points, have retained their place as the top team in the world followed by Germany in second place.
Africa's top side is Ivory Coast with 951 points, with the Elephants ranked 15th in the world.
World top 10
The current world top ten teams are Spain, Germany, Uruguay, Netherlands, Portugal, Brazil, England, Croatia, Argentina and Denmark.
Africa top 10
Africa's ten leading teams are Ivory Coast, Ghana, Algeria, Mali, Zambia, Gabon, Libya, Tunisia, Egypt and Morocco.
Read Other Articles In Article (Archive)