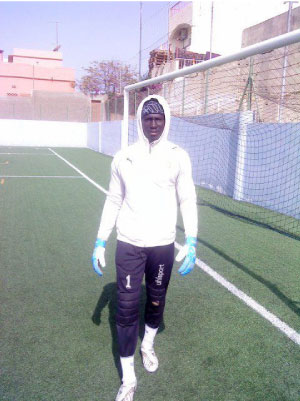 Muhammed Cham is no doubt one of the most promising goalkeepers The Gambia has produced.
The 16-year-old goalie who has developed into a key performer with Dakar Sacre Couer, an academy side in Dakar, is considered the driving force behind the success of the academy outfit helping them to gain promotion to the second tier of the Senegalese league this season.
The aspiring gloves man, who was also instrumental in guiding Sankung Sillah FC to a promotion to the Serrekunda West Sports Organisation (SWESO) Nawettan during his three-year spell with the team, has made a mark since his move to Senegal to join Dakar Sacre Couer two years ago.
He has since transformed into becoming a key figure in the team.
Delleh, as he is widely called, did train with Seaview FC, a one-time powerhouse team in the Gambia Football Association first division league before travelling to Senegal.
Although he never tested a competitive senior football with previous club Seaview while in The Gambia, he has done enough to earn the admiration of the Senegalese academy.
The experienced youngster, who has spelled out his desire to play for any of the national teams of The Gambia to end persistent speculations about the possibility of him naturalising in Senegal, said he is determined to wear the Gambian jersey and has called on the country's football authorities to consider him for selection.
Cham, who has entered two years of his playing career in Senegal, said he is working every day to improve his playing standard and is aiming to become one of the best goalkeepers in world football.
He has also reiterated his ambition to play in one of Europe's top elite clubs the likes of Barcelona, Real Madrid, Manchester United and AC Milan.
The highly rated young gloves man, whose goalkeeping advantages surpass his disadvantages, also said: " I have all the necessary requirements to be a top goalkeeper when it comes to height, power, confidence among others and I believe these are the type of qualities a goalkeeper needs to develop his standard.
"There are many players who want to become professional footballers in this generation because of the huge money involved but you need a lot of things in place to become a complete player.
"This, however, includes proper training, rest, food, self-confidence, determination, hard work and other things."
Cham, who is a native of Ebo Town, also said: "It is better for me to play for my country of birth (The Gambia) than any other country and I am ready to play for my country any time I am needed."
He also disclosed that it is easier to be spotted by foreign clubs when playing in Senegal than when playing in The Gambia given the fact that Senegal is more recognised than The Gambia in terms of football.
Read Other Articles In Article (Archive)